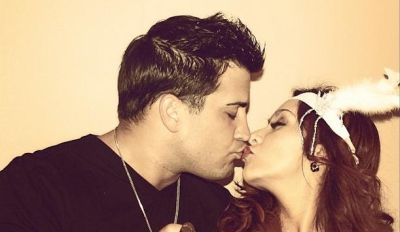 Jersey Shore star Nicole 'Snooki' Polizzi has been talking about her wedding to fiance Jionni LaValle for years. Recently Snooki began revealing random details about their big day (for instance, it will be 'Great Gatsby' themed!) but for the first time ever, she let it slip when we can expect the over-the-top nuptials to take place.
2014 will be a huge year for Nicole and Jionni: not only are they getting married, but they are also building a home and expecting their second child.
During the MTV Upfronts a few weeks ago, the pregnant reality star gave WetPaint a timeline of the big events coming up in her life.
"It's going to be the house that we move into, then the baby, then the wedding about a month after the baby," she told the site. "So that's why I'm trying to be fit and trying to keep my arm muscles because once I have the baby I can't really work out. You have to recover, and then I have to squeeze into my dress."
Snooki is due to give birth to her baby in late September, early October, according to reports, so that would mean her wedding is taking place in late October, early November. Her Snooki & JWoww co-star, Jenni Farley, is also expecting a child.
Luckily, we will get to see the births of their babies, Snooki's wedding and everything that happens in between: MTV announced at the Upfronts that 'Snooki & JWoww' has been renewed for a fourth season!
(Photo: Instagram)