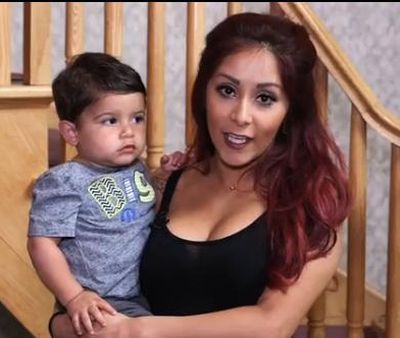 It seems like the cast of the Jersey Shore is making babies left and right these days.  DJ Pauly D fathered a baby girl last year, and his co-stars Nicole 'Snooki' Polizzi and Jenni 'JWoww' Farley are both currently pregnant. This will be Nicole's second child (son Lorenzo will be 2 in August), and today she took to her Celebuzz blog to reveal if she's having a boy or a girl.
In a short video featuring Nicole and Lorenzo, Nicole told fans that her fiance, Jionni LaValle, already knew the baby's sex and had filled a box with blue or pink balloons to let Nicole know what she was having.
This seems to be the latest rage in the baby-making world. People can't just tell everyone if it's a boy or a girl. Parents-to-be are throwing full-on "gender reveal" parties, and cutting blue or pink colored cakes to reveal their baby's sex. The balloon reveal seems to be another popular way to do it.
Anyway, in the video, Snooki excitedly opened the tub to see what color balloons were in it.
"We're having a girl!" she squealed as she caught sight of the pink balloons. "Oh, God, kill me! I don't know how I feel about it, I'm terrified. But we are really, really excited."
At least Nicole won't be alone in dealing with all that comes with raising a little girl: Her BFF and Snooki & JWoww co-star Jenni is also having a baby girl.
Recently, Nicole revealed that she and Jionni will be tying the knot about a month after their baby is born. The baby is due around the end of September, which means the wedding will likely take place in October or early November.
Nicole has not yet revealed what she and Jionni plan to name their kid.
Watch the video below: