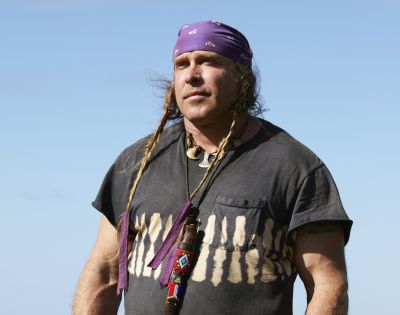 Cody Lundin faced a venomous cobra snake on last week's episode of Dual Survival but it appears he's facing an even bigger enemy: the Discovery Channel!
Cody, who has starred on the survival show since 2011, took to his Facebook page to give his fans the real story of why he was fired from the show back in February.
(Before we go on, let The Ashley just say that she knows this isn't the type of reality show that she typically covers on The Roundup– there are no pregnant teens or women crying over roses. However, the fact that this dude treks all over the world shoeless strangely fascinates The Ashley and she frequently watches this show.)
Anyway, Cody claimed back in February that he was fired from the reality show over "differences over safety and health concerns on the show." He declined at the time to go into great detail about the firing, but later got extremely angry when the Discovery Channel released what he calls a false statement about why he was let go.
"
We are always striving to get a lot of different takes on survival on our air and we felt it was time for change. We had a good run with Cody and wish him well," the network said in a statement to the
Rocky Mountain Bushcraft
blog.This "make nice" post apparently pissed Cody off, prompting him to reveal some behind-the-scenes gossip in a recent scathing post to his
Facebook page
. He called the network's explanation for his departure "
inaccurate, uncalled for, unacceptable and untrue."
"Initial press releases implied that I was returning for the entire fourth season of Dual Survival. Not true," he wrote. "Later releases featured quotes from a new Discovery executive producer implying that I quit the show. Not true. Further releases implied that I couldn't "hack" the show anymore and that I was unable to handle the survival scenarios. Not only are these implications completely false, they question my professional experience, expertise and integrity in a manner that I will not tolerate."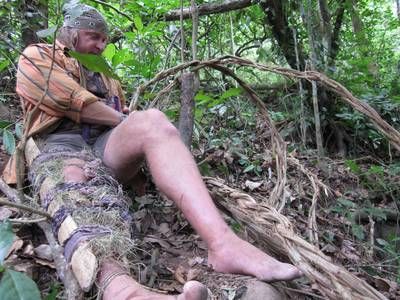 He eventually revealed more about his firing from the show.

"It's shocking to me that Discovery would treat anyone in this manner," he wrote. "Programming of this nature must be produced and marketed in a responsible manner with the highest level of regard for the safety and health of the hosts, production personnel, and members of the viewing public. I have shared this message with them many times. Failure to observe this standard could have tragic consequences that, with proper precaution, can be avoided. There can be no compromise when dealing with people's lives."
Cody, who appeared in last week's Sri Lanka episode, will be featured in the upcoming episodes taped in Norway and Oman. After that, Season 4 will continue with episodes starring Matt Graham of Dude, You're Screwed fame.
Cody's 'Dual Survivor' co-star, Joe Teti (who he's shared many a homemade shelter with out in the wilderness) seemed to side with the network on the firing. In a Facebook post, he gave his side of the story.
"I was there and know exactly what happened," he wrote. "For the record, the safety of the crew and the hosts of any show are the most important issue for any production company or network."
We may never know the entire story, but The Ashley is devastated that Cody (and his creepy bare feet) won't be on the show anymore! (Maybe the network was trying to force him to wear shoes?)
(Photos: Discovery Channel/Mark Arbeit)