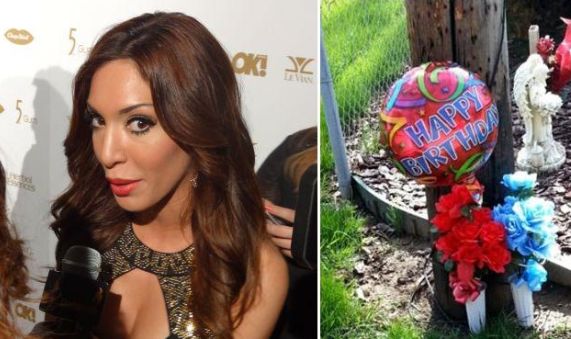 While Farrah Abraham is busy trying to scrounge up sponsors for her "Sexiest B-day Bash Ever" (no, seriously, that's really what she's calling it), the birthday of the supposed "love of her life" Derek Underwood came and went yesterday. Derek, who is the father of Farrah's daughter Sophia, was killed in a tragic car accident in December 2008 and would have turned 24 years old yesterday. His mother, Stormie Clark, spoke to The Ashley about the pain Derek's family feels every year on his birthday.
"I woke up with a heavy heart this morning knowing that it was Derek's birthday, and that he was not here to celebrate with," Stormie told The Ashley yesterday, adding that many members of Derek's family visited his grave and the site of his car crash to honor his memory. 
"All of Derek's family visits his grave weekly, and my daughter's and I drive by his crash site, here in town more than we would like to," she said.
One person that was missing from the birthday memorial was Derek's only child, Sophia. While Farrah has taken the little girl to visit her father's grave (with cameras rolling, of course), Stormie expressed her sorrow that Farrah has chosen to keep Sophia from Dereks' family, and from honoring Derek's memory properly. (Filming Sophia running around his grave for your stupid music video just doesn't count, sorry Farrah!)
"I really hope that Farrah is taking Sophia to visit her daddy's grave from time to time, so that she understands where her daddy is, and that he will always be with her," Stormie said. "I think that this is really important, now that Sophia is getting older."
Although Farrah made it appear that she visited Derek's grave yesterday by posting a photo of it on Twitter, the photo that she posted was, in fact, taken by Derek's stepmom Debbie, not Farrah. According to Derek's family, Farrah did was not at the cemetery yesterday.
Of course, Farrah has been very busy lately, what with promoting her p0rn movies private sex tapes and appearing at nightclubs across the country. Her own 23rd birthday is on May 31. She is throwing herself a "sexy" bash at a New York City nightclub.
"If Derek were alive today, Sophia's life would definitely be different," Stormie told The Ashley in December.