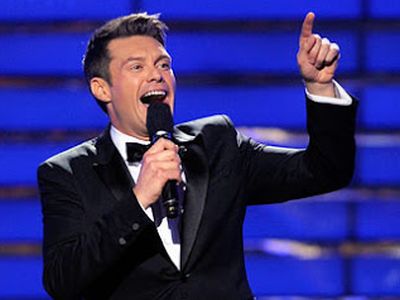 American Idol was once an untouchable ratings giant, but, over the last few years, the show's appeal (and its ratings) have been slipping to all-time lows. The show's 13th season, which will end this month, has been the lowest-rated season in the show's history. The Season 13 premiere was watched by only 15.9 million viewers, half as many that watched the Season 6 premiere in 2007, when the show was at its peak.
Anyway, despite the fact that many fans and critics feel that the show has overstayed its welcome, FOX has decided to renew the show for another season. However, the 'American Idol' we see in 2015 will be a more "streamlined" version, the network's entertainment chairman, Kevin Reilly, told reporters during a conference call today.
Hoping that the "less is more" approach will improve the show's ratings, Kevin Reilly announced that the show would reduced to airing one day a week. Instead of using the show's usual format of a one- or two-hour performance show on one day, followed by a one-hour results show the next, the Season 14 episodes will only air two days in a row on select weeks.
"There will be less hours, around 37 hours," he said. "[It] will quite likely end up as a two-hour show on one night for most of its run."
If you love the cheesy audition episodes, have no fear: those episodes will still be run two days a week.
Although they refuse to let the show die, it appears that the network bigwigs are at least realistic about the show's future.
"'Idol' is not coming back to the ratings champion it once was," Kevin Reilly said. "It's not about turning it around — it's about making it a good show for many years."
While he did not reveal who would be sitting in the judges' seats in 2015, he said that it's "likely" that the current judges: Keith Urban, Jennifer Lopez and Harry Connick Jr. will stay on for Season 14. Ryan Seacrest has already signed on to host.
Tell The Ashley what you think about this change in the comments below!
(Photo: FOX)