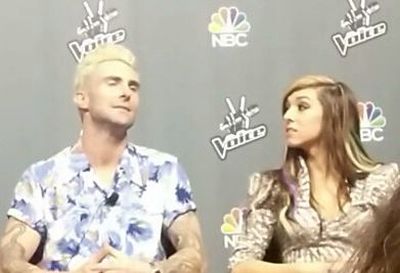 Christina Grimmie may not have come away from last night's finale of The Voice with the win, but she did get a free car– and a promise of a recording contract from her coach, Adam Levine. Adam, who, at the beginning of the show told Christina "whether you win 'The Voice' or not you will have a record deal because I would like to sign you," later told The Ashley and other reporters at the post-show press conference that he still has full intentions of signing Christina to his label, 222 Records.
"One hundred percent!" he said. "As far as I'm concerned, it's happening."
Judging from her reaction, Christina was obviously shocked when she heard Adam promise to sign her at the top of the show. At the press conference, she expressed her excitement.
"Well, because Adam's the best I'm going to hopefully working with him on his label," she said, adding that she wasn't disappointed with a third place finish. "I'm in the Top 3, I don't know how you can possibly complain, being in this position."
Adam said he had no doubts in his decision to sign Christina, who already has a ginormous YouTube and social media fan base.
"One of the coolest things about Christina is that it's so hard to have traction as a singer and have the YouTube following that she had, all the things that she had in place before she was on 'The Voice' are the hardest things for an artist to get," he told reporters. "So I see those things, and I also see how successful she was on the show, what a hard worker she is, and I think to myself, regardless of the outcome, like I said on TV, she'll have a great career and I'd love to be part of it."
Jake Worthington, who finished in second place, didn't get a record deal offer from Adam (help a cowboy out, Levine!) but he will get to go on tour with Christina, winner Josh Kaufman and several other singers from the Season 6 gang. He, too, was awarded a new car, but decided to give it to his granny, who bought him his very first car. (Awwwww!)
"Making it to the finale, as far as I'm concerned, is a win because you have the platform to do just as much as the winner does," Adam told Christina and Jake.
Do you think the right person won 'The Voice?' Sound off in the comments below! Click here to read The Ashley's other coverage of last night's finale of 'The Voice!'