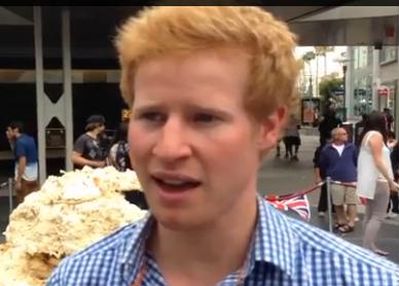 Matthew Hicks isn't exactly a prince—he just plays one on TV.
The 25-year-old is actually a consultant—although if you would have asked the 12 women that were vying for his affection on I Wanna Marry Harry, a reality show that just premiered on FOX, he is Prince Harry of Wales.
Matthew, who basically duped the women into believing he was the famous ginger son of Prince Charles and Princess Diana, called the experience "bizarre" in an interview with TheTVPage.com today.
"It wasn't easy and I didn't particularly enjoy that aspect of it," he said of the deception.  "At the end of the day, it's entertainment, it's lighthearted. It's all about fun."
From the sound of it, producers found Matthew online and, after realizing how strikingly similar he looked to the real Prince Harry, built a reality show around the uncanny resemblance.
"We try to find out if these ladies are gold-diggers or shallow, or if they'regenuine ladies that can fall for a genuine guy," he said.
A genuine guy that's lying about who he really is, of course. (Hey—at least the accent appears to be real!)
Anyway, The Ashley is not currently watching this show. She has, however, heard from readers that are very much enjoying watching American women make complete crapwaffles out of themselves because they think they are going to have the opportunity to become a real princess.
Click here to see what else Matthew had to say about his time impersonating Prince Harry.