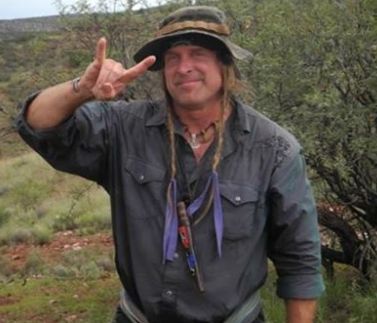 This week's episode of Dual Survival was the last to feature barefoot star Cody Lundin. Cody, who claims he was fired from the show back in February over "differences over safety and health concerns on the show," has been replaced by Dude You're Screwed star Matt Graham.
Wednesday's episode of the show was a special episode in which the producers showed what Cody was like behind-the-scenes and the "tension" that caused Cody and the Discovery Channel to part ways. The clips that were shown did not portray Cody in a positive light and Cody is not happy about it! In fact, he is threatening legal action against the Discovery Channel and the show's production company for defamation.
Cody took to his Facebook page yesterday to discuss the issue.
"Taking the high road does not involve letting disingenuous people dump on you," he posted. "I have heard that Discovery Communications and Original Media (the production company) tried their best to defame me on last night's program, even dredging back into season three."
After comparing his dealings with the channel to having herpes, he went on to explain that he is so upset about how he was portrayed on the last episode, he is seeking legal action.
"A cease and desist letter for defamation was sent to both companies by my attorney weeks ago," Cody posted. "It seems this was ignored. For executives to purposely pick and edit footage out of context at my and the viewers expense, all the while knowing the real back story, is without conscience. Once again, these actions are uncalled for and have forced my hand to defend my professional reputation."
Cody also revealed that the "behind-the-scenes" episode was not the Discovery Channel's preferred way of handling the "Cody is leaving" debacle.
"What 'Dual Survival' fans don't know is that last night's 'behind the scenes' episode was Discovery's 'Plan B' at attempting to explain why I am no longer on the show. 'Plan A,' which I refused to participate in, is far more interesting, informative and damning to those involved," he posted.

Raise your hand is you want to know what "Plan A" was!?
Cody's former co-star Joe Teti took to his own Facebook page to address Wednesday's episode.
"I was shocked myself watching last night's episode as I had no clue as to some of what was shot," Joe posted. "I saw it for the first time like you did. I learned a lot from Cody and for that I am thankful. I wish him well and I am sure you will see him again on TV if that is what he wishes to do."
The Ashley has reached out to the Discovery Channel for comment but has yet to hear back. She will update this story when there's additional news!
(Photo: Facebook)