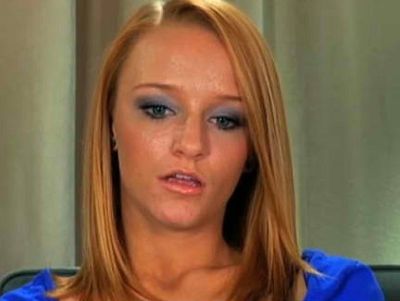 Maci Bookout is arguably the most-popular of all the girls in the Teen Mom franchise. Although Teen Mom 2 star Chelsea Houska recently took the title of "Most Followed 'Teen Mom' on Twitter" from Maci, she is still extremely popular and generally well-liked by fans. (The Ashley knows this better than anyone, because you Roundupers are always asking for Maci stories!)
Anyway, OK! Magazine recently did a quick Q & A with Maci, in which Maci revealed that she's tired of people picking on her for getting her party on!
Maci frequently posts photos to her social media of herself partying and drinking with her friends, which has gotten some fans all worked up, and commenting that she is not being responsible.
(The Ashley has always maintained that she feels Maci got an extremely friendly edit from MTV during the course of 'Teen Mom.' Her partying was usually conveniently "left out" of the show, for the most part.)
Anyway, Maci finally spoke out about the comments.
"The biggest misconception about me is that I party too much," Maci told the magazine. "Everyone on Instagram talks about it."
Maci insists that she only puts her party pants on when she doesn't have her five-year-old son, Bentley.
"I'm like, 'Don't you realize that my son, Bentley, goes to his dad's house every other weekend for three days?'" she said.
Maci's partying has gotten her into some trouble in the past. She came under fire a few years ago when photos of her shaking her ass and drinking out of a beer bong on the beach surfaced. She also took some heat when The Ashley broke the story that Maci and her posse were kicked out of a hotel in Anaheim, California, for being drunk and fighting.
Maci didn't deny that she likes to pop a cold one, but insists that she does it at the right times.
"If my homework is done and Bentley is not with me, I am definitely going to go get a beer–because I deserve it!"
Wait…seriously, this chick is still in school? I figured only signed up for college so that she could participate in Spring Break.
In case the first paragraph of this article perked your interest in which 'Teen Mom' girls are the most popular on social media, here's a ranking of their number of Twitter followers.
Chelsea Houska: 1.28 million
Maci Bookout: 1.27 million
Leah Calvert: 1.03 million
Jenelle Evans: 966,000
Farrah Abraham: 938,000
Kail Lowry: 907,000
Catelynn Lowell: 883,000
Amber Portwood: 58,300 (Amber just started her account, however.)
(Photo: MTV)