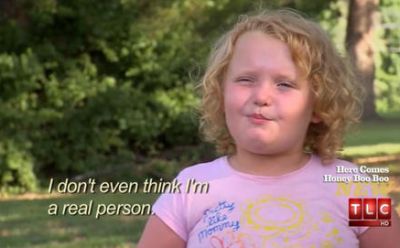 Apparently Miss Honey Boo Boo isn't as sweet as we all thought…
A writer for Salon.com has revealed that Alana "Honey Boo Boo" Thompson, the star of Here Comes Honey Boo Boo exhibited disrespectful and appalling behavior during her recent visit to The Tonight Show. The episode, which aired on Wednesday, featured Alana and her mother, June, speaking to 'Tonight Show' host Jimmy Fallon and promoting the new season of their reality show. While Alana was her normal, sassy self on-air, the writer, Christy O'Shoney, who was in the audience for the taping, says that off-camera, Alana acted like "a tiny, dimpled monster!'
"The interview I watched on television that evening felt nothing like it had in the studio," Christy wrote. "Many of the major beats were there — Alana telling Fallon that he wasn't so big and bad, the point where she refused to give him a friendship bracelet — but the broadcast left out all of the eerie tension."
Apparently there is a bit of "Kate Gosselin"-style creepiness going on between Alana and her mother.
"The episode left out some deeply uncomfortable spats between Mama June and Alana," Christy wrote. "You see it a bit in the broadcast, but Mama June was continually either answering questions on behalf of Boo Boo or mumbling answers to her. The quick wit we've come to expect from Honey Boo Boo was nowhere to be seen, but instead it was fed to her by her pageant mom."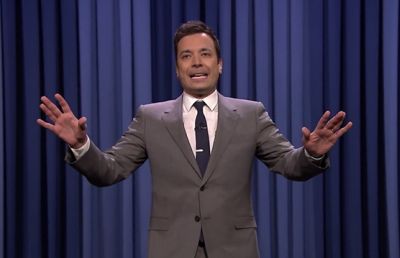 One major moment was also reportedly left out: the part where Alana hit her mother and caused even Jimmy Fallon to speak up.
"She became so fed up that she actually struck Mama June," Christy wrote of Alana. "Up until this point, Fallon had been doing a great job of navigating Alana's weird behavior, but it was at this moment when he became positively awesome. 'NEVER hit your mother!' he exclaimed, in a voice that was serious with just a hint of a joke, and the studio audience erupted in applause. Finally, we thought, someone is addressing this child's attitude."
Guuuurl, if The Ashley had hit her mother when she was a child, she'd still be pulling acrylic nails out of her skull!
Anyway, the writer says that Alana's behavior may be attributed to her growing up on reality TV. (Before getting her own show, Alana was featured on Toddlers & Tiaras.)
"The Honey Boo Boo we know is a compilation of shticky moments in what has clearly been a strange, tough childhood," she wrote. "The Alana I saw on 'The Tonight Show' set was visibly troubled: disrespectful, defiant, entitled. Of course, with a bit of editing, 'disrespectful' becomes 'precocious,' 'defiant' becomes 'sassy,' and 'entitled' becomes 'confident.'"
The Ashley thinks 'Here Comes Honey Boo Boo' is just awful and she refuses to watch it, despite the fact that the show provides an unmeasurable amount of funny things to write a recap about. She hopes that the show is on its last legs and that Alana will get to live out the rest of her childhood without the glare of reality TV cameras.
Here's a clip of Alana and June's appearance on the show. Alana looks almost comatose in parts of the clip, and other times totally looks like she's doing what she thinks everyone expects her to do–act crazy. And, for goodness sakes, will someone please get that child some clothes that fit!?
(Photos: TLC, NBC)