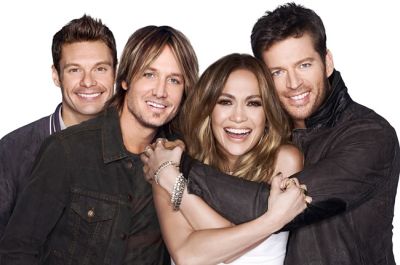 Last season's star-powered American Idol judging team of Jennifer Lopez, Keith Urban and Harry Connick Jr. didn't exactly deliver the stellar ratings the show's producers had hoped for but, hey, at least they were better than Mariah Carey and Nicki Minaj, right?
The producers of 'Idol' are hoping that J-Lo, Harry and Keith will keep the very tired show afloat for at least one more season. The Hollywood Reporter confirmed today that the trio will all be keeping their seats at the 'Idol' judging table for the show's upcoming seventy fifth fourteenth season.
Ryan Seacrest announced a few months ago that he, too, would be staying on the sinking 'Idol' ship for another season. There's no word if Randy Jackson will continue as an advisor for the show. (The Ashley knows y'all are holding your breaths for that one!)
THR reports that the judge's hometowns of New Orleans (Harry), Long Island, New York (Jennifer, who has a house there but was born in the Bronx) and Nashville (Keith, who was actually born in New Zealand, but lives in Nashville) will be hosting 'Idol' auditions for this season.
"Jennifer, Keith, Harry and Ryan are the very best in the business at what they do, and I'm thrilled that they are returning to American Idol for another season," Fox exec David Hill told THR. "Each brings unique qualities and expertise to the team, but they all share the same passion for helping undiscovered singers achieve the American dream."
Last month it was announced that the show will see some major changes for Season 14,  including a one-night-only format.
Dozens of people can hardly wait for the new season to start!
(Photo: FOX)