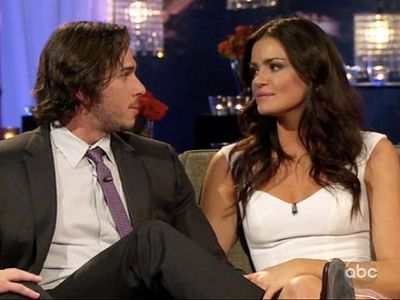 Last year, The Ashley reported that Courtney Robertson, the winner of Ben Flajnik's season of The Bachelor, was releasing a tell-all book about her relationship with Ben and her experience on 'The Bachelor' back in 2012. The book, called I Didn't Come Here to Make Friends: Confessions of a Reality Show Villain, was released today and, in an effort to promote it, Courtney has been doing rounds of press, airing all of her dirty laundry.
Among things we learned from Courtney's pre-release interviews: She did, indeed, have sex with Ben in the ocean in Puerto Rico during their infamous skinny-dipping romp ("but it was only for about 20 seconds and, um, it was just the tip," she wrote); She and Ben had sex three times during the season; and 'Entourage' star Adrian Grenier, who Courtney has hooked up with in the past, had the biggest man-piece Courtney has ever seen. As you can see, Courtney's keeping it classy in the book.
Anyway, in a new interview with Metro.us, Courtney reveals how her ex-fiance, Ben, feels about having all his dirty laundry aired.
"Ben's read the book," she told the site. "He's not exactly thrilled with it. … But we haven't really had a friendship anyway."
Courtney apparently also goes into great detail about the sex move she used in the Fantasy Suite that ended up winning Ben Flajnik's…um…heart.
"We did every position under the sun, but I believe I sealed the deal when we successfully completed the reverse cowgirl," she wrote.
Ben, who has stayed quiet about the book until now, has finally spoken out about it.
"It's sad. A new low, even for Courtney," he told People. "I don't see why she would choose to have people look at her the way she has portrayed herself. I am in a really great place in life and don't have any interest in reliving the nightmare."
Ben is over his relationship with Courtney. He will be moving in with his current girlfriend, Stephanie Winn, on July 1.
Courtney also dished to Metro about the 10 girls that you see on 'The Bachelor' every season. (It is actually pretty hilarious and accurate and you should check it out here!)
Naturally, The Ashley is planning to feast her reality-TV-gossip-loving eyes on this book. If you also want to get a copy, you can order it by clicking on the link below!