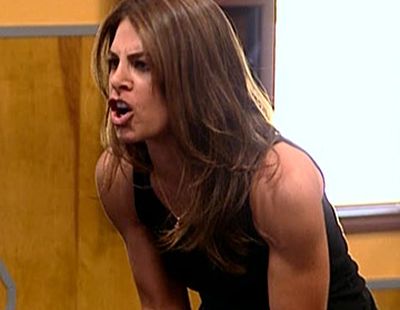 If you love watching Jillian Michaels scream at contestants on The Biggest Loser, it looks like you're out of luck.
In a statement to the press released this morning, NBC announced that Jillian will be leaving the show–and will not be one of the trainers for the upcoming fall season (which, coincidentally, started filming today). The network, along with Shine America, the company that produces the show, said that they and Jillian have "decided to part ways."
Jillian has issued no statements about her exit from the show, and has stayed quiet on her Twitter account about it.
No additional information as to why Jillian is leaving the show was provided; however, it is rumored that an incident that occurred during last season did not sit well with Jillian. After having her team punished for taking caffeine pills given to them by Jillian, she spoke out on her Twitter about the stunt (which many claim was just an effort to bring back already eliminated celebrity contestant Ruben Studdard). Jillian quickly deleted the tweet (but The Ashley captured it, of course!) but the incident apparently has not been forgotten by Jillian.
In addition, the extreme weight loss of last season's winner, Rachel Frederickson was also a sore spot for Jillian. After Rachel appeared skeletal during the Season 15 finale in February, Jillian admitted she was "stunned," and later told Us Weekly, "I was immediately concerned and wondering how this happened."
This marks the third time Jillian has left 'The Biggest Loser.' She was an original trainer on the show when it began in 2004, but left the series in 2006. She returned in 2007, and stayed for several seasons before leaving in 2010 to focus on her family. She returned in 2012.
According to a story released by the Associated Press, a production company spokesperson would not make a comment about whether or not Jillian will ever return to 'The Biggest Loser.'
Jillian's fellow 'Biggest Loser' trainers, Bob Harper and Dolvett Quince, have also stayed quiet on their Twitter accounts about Jillian's departure.
The new, Jillian-less season of 'The Biggest Loser' starts in September. Jillian's replacement has not yet been named.
The Ashley will update this story when more information is available!
(Photo: NBC)