Teen Mom 2 star Adam Lind was never exactly a fan favorite, but after today it's probably fair to say that he has few, if any, fans left.
Adam took to his Instagram on Wednesday night to prove to his fans that his daughter, Aubree, still has his last name, despite the fact that it was depicted during an early episode of 'Teen Mom 2' that his baby momma, Chelsea Houska, had changed it. After posting a photo of his child support paperwork (with Aubree's last name of Lind clearly visible), he then went on a rant, insulting the show's fans and calling the reality show (which still lines his pockets nicely, mind you) fake.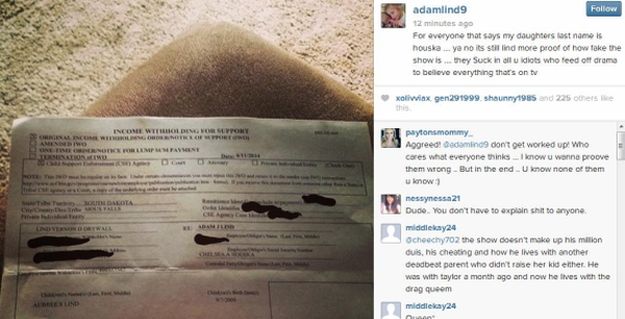 "For everyone that says my daughters last name is Houska…ya no its still Lind. More proof of how fake the show is…they suck in all u idiots who feed off drama to believe everything that's on TV," he captioned the photo.
Adam, who allegedly works for his father's drywall business, continued to sound off in the comments of the photo.
"Some fathers out there don't even know they have kids and sign their rights away and don't help at all. At least I fight for my kid!!" he wrote.
Good thing he never told his baby's mother to tell him how and when he could sign away his rights to "that mistake"…
Oh. Wait…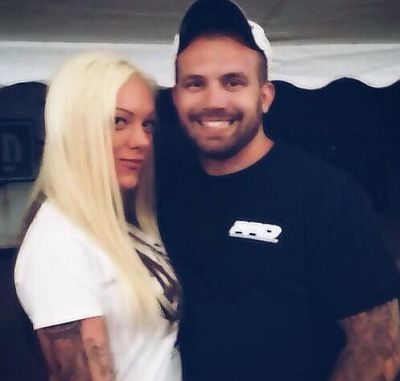 Anyway, Adam, who has wracked up more jail time than anyone else in 'Teen Mom 2' history (Even Kieffer!) is now the father of two kids. His daughter, Paislee, was born last September.
In other Adam news, he has split with Paislee's mom, Taylor Halbur, and is now dating (and living with) a woman named Jessica, who has a teenage son of her own. Adam and Jessica have only been together about a month but are already proclaiming their love all over their social media accounts. (Perhaps Adam will have Daughter No. 3 by Easter?)
She's in for a real treat with this guy…just ask Taylor…or Chelsea…or any corrections officer in the state of South Dakota.
(Photos: Instagram, Facebook)