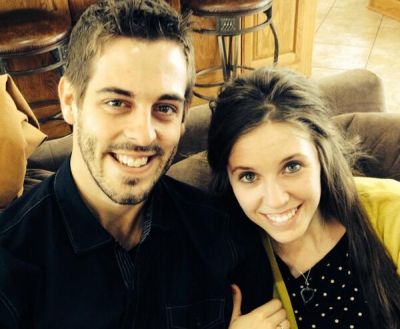 Jill Duggar is officially a married woman! The 19 Kids & Counting star, who is the first Duggar girl to say "I do", married her boyfriend, Derick Dillard, yesterday in her hometown of Springdale, Arkansas.
Is it weird that The Ashley can't stop thinking that there is now a Duggar daughter that's not a virgin anymore?
Anyway, when you come from a family that has 19 kids in it, you're obviously not going to have a small, intimate wedding, and Jill was no exception to this rule. Over 1,000 people attended Jill and Derick's nuptials, including five of her sisters, who served as bridesmaids. Other members of the Duggar clan served as groomsmen, ushers, ring bearers and flower girls.
All 1,000 people were also witness to Jill and Derick's first kiss! (The Duggars don't believe in kissing–or any other kind of frisky behavior–until marriage. The couple didn't even hold hands until after they were engaged!)
"I think it is safer and makes it more special to wait to kiss until your wedding day," Jill told People magazine earlier this year. "To save the physical side of your marriage for your wedding day and not going further than you should – we want to have no regrets."
The magazine also got first dibs on the wedding photos and details. People reports that Jill's mother Michelle had her own wedding dress on display at the reception, as well as the police uniform of Derick's deceased father. Click here to see some photos of their reception.
Jill and Derick are preparing to leave for their honeymoon, although they have not disclosed where they are going. Now that they are married, they are free to get freaky as much as they want.
I'd expect to see another grandchild by Easter 2015!
We may also see another Duggar wedding in the very near future, as Jill's little sister Jessa is also in a serious relationship. Although she's not officially engaged, she has been courting with Ben Seewald for several months. Jill, who is 23, and Jessa, who's 21, have an older sister, Jana, who does not appear to be currently courting anyone, which must make things a bit uncomfortable for her.
"We've always talked about it and always understood that just because there are so many of us, it's not going to go in order," Jill said during a recent episode.
Um…easy for you to say, girl! You're married!
Anyway, congrats to the happy couple! Wanna see Jill and Derick's wedding registry? Click here!
(Photo: Twitter)