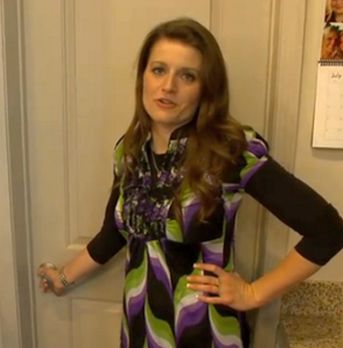 The Ashley is convinced the producers of Sister Wives are just cruel people. Last night's season finale left us all in suspense, with fourth wife Robyn Brown making a huge deal about having a "big announcement" to make. Fans eagerly waited as Robyn prepared to spill the secret to her family, only to have the announcement cut off to create the ultimate cliffhanger for next season.
Of course, everyone assumes that Robyn's "secret" is baby-related. (Raise your hand if you were secretly hoping Robyn's "secret" was that she suddenly realized what a tool her husband, Kody, is and that she was leaving because she was tired of watching Meri cry?)
Anyway, the Brown kids were also speculating that Robyn was once again with child. If true, this will be Robyn's fifth child, and her second with Kody. (Her first three children are the result of her first marriage to David Jessop.)
Kody fueled the pregnancy fire last night when he posted a tweet hinting that he and Robyn should probably have another kid.
Super Sol! Thanks @LuvgvsUwngs A cute little boy! Only the 3rd shy child of 17….Should we have another? #SisterWives

— Kody Brown (@realkodybrown) July 21, 2014
Wife Number 1, Meri, hinted that "the secret" may be revealed on next week's 'Sister Wives Tell-All' episode.
Tell All episode with @tamronhall next Sunday. Don't forget to watch! Who knows what secrets may be revealed?

— Meri Brown (@MeriBrown1) July 21, 2014
The Ashley has been doing her best to sleuth out the truth. While she didn't get a definitive answer from her efforts, all signs point to the fact that Robyn is once again pregnant. Recently a person claiming to have many mutual friends with Robyn said on social media that Robyn is, indeed, pregnant. Of course, that's hardly definitive proof.
The Ashley will update this if she gets any more information!