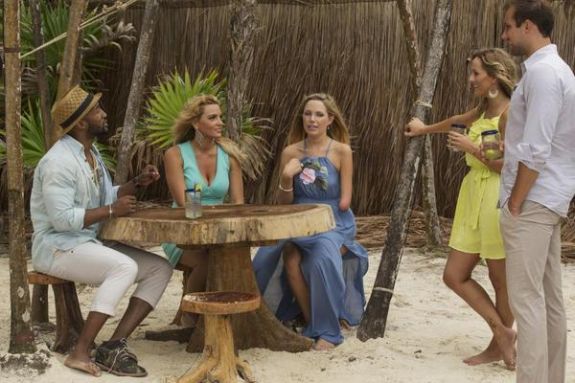 We are only a few weeks away from the premiere of Bachelor in Paradise, which is sure to be the can't-miss hot mess of the summer!  ABC released a few details a while back about the new show, as well as a partial cast list, but in a new press release, the network has revealed just how this trainwreck will work!
From the sound of it, 'Bachelor in Paradise' will be quite the self-esteem-crushing experience for its 25 contestants! According to the press release, 'Bachelor in Paradise' will begin with 14 former contestants (all of which left their respective seasons "broken-hearted," of course). However, it will not be the expected 7 male/7 female ratio arriving in Tulum, Mexico. Instead, it will be eight women and six men. In addition to setting up for potential hot tub threesomes, this ratio also helps with the show's first twist.
"At the first rose ceremony, the six men are given a rose to hand out to a woman they'd like to spend more time getting to know in paradise," the press release reads. "With an uneven number of men and women in the group, the two women left without roses are immediately sent home heartbroken." (Heartbroken–and crying in the back of a limo, fingers crossed!)
If that twist isn't soul-crushing enough for you, just wait until the next episode!
"Just as potential couples start to pair up, everything changes dramatically in the next episode when two new men arrive to paradise with love on their mind," the network said.
For the next seven weeks, either two new men or two new women will join the cast, so that there is always an uneven ratio to allow for people to be sent home brokenhearted. The two women or two men that fail to receive a rose at the end of the week will be sent packing. With a twist this scandalous, we can expect these knuckleheads to get so desperate to stay that they'll do just about anything.
"It's a constant love shuffle where surprise arrivals can rekindle old romances, spark new ones or splinter existing love affairs."
Dun.Dun.Dun.
Click here to see who the 14 first-arrivals will be. ABC has also given us the new "late arrivals" cast list. It includes:
Brooks Forester (The guy that dumped Desiree right before the finale, making her have to settle for Chris)
Chris Bukowski (The creepy guy that tried to "sneak" into the Bachelor Mansion on Andi's first night)
Christy Hansen (A girl from Juan Pablo's season that no one noticed)
Cody Sattler (Mr. Muscle Milk from Andi's season)
Jackie Parr (The girl Sean dumped in favor of Tierra. That one had to hurt!)
Danielle Ronco (Danielle the Mute returns! Apparently she now has the hots for Marquel–and the ability to speak!)
Jesse Kovacs (The guy that almost won the original 'Bachelor Pad' with his ex-girlfriend Elizabeth)
Kalon McMahon (The douche that flew into Emily's first night in a helicopter and then made fun of her daughter)
Lucy Aragon (The naked girl from Juan Pablo's season)
Tasos Hernandez (The guy from Andi's season that everyone thought was gay)
Zack Kalter (A guy from Desiree's season that The Ashley couldn't pick out of a lineup)
In the preview clip shown during last night's "Men Tell All" episode, it appears that someone goes all nutty while on the island and possibly tries to kill themselves–or someone else?!
This hot mess starts, Monday, August 4 on ABC!