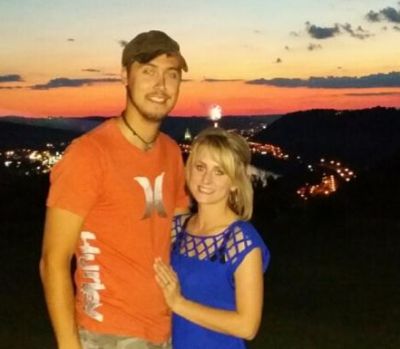 Teen Mom 2 fans have been speculating for over a year about the state of Leah Calvert's marriage to second husband Jeremy Calvert. The couple's fighting has been a main focus of the show for the past season, and even fueled Jeremy's Assault By Bacon on his wife last season. In addition, Leah continues to tweet subtle messages that are seemingly related to her troubled marriage to Jeremy.
In a new interview with In Touch, Leah addresses her marital problems and reveals whether or not she and Jeremy are really getting divorced.
"Divorce is not an option for us," Leah told the magazine. "I truly believe that Jeremy is the best thing that's ever happened to me and my girls, and I really think we can overcome anything."
While Leah admits that "We've had problems," she said that she has finally convinced Jeremy to go to marriage counseling–and it's been working for them.
"It's helped us to see each other's feelings from a different point of view. We're doing our best to fix our relationship," Leah said. "Jeremy and I promise each other every day that we're never going to give up. In the end, I feel like that's what marriage is all about."
Not to be a buzzkill, but Leah's statements about never divorcing Jeremy eerily echo statements she made when her marriage to Corey Simms was in question back in 2011. During a reunion aftershow, Leah said, "Marriage to me is a big commitment. If I took that vow it is going to be forever."
While it is to be hoped that Leah has grown a lot since her marriage to Corey, she continues to post cryptic tweets which many assume to be about her marriage.
"Any action is often better than no action, especially if you have been stuck in an unhappy situation for a long time," Leah tweeted on July 21. The day before she wrote, "This is one battle I will NOT back down from, and the bitterness to come will not be on my hand."
On July 18, she posted, "What you do unto others will only be done unto you… #AlwaysBeVeryWise."
Leah and Jeremy have been married since 2012 and together are the parents of one-year-old Adalynn. (Leah also has twin girls with her ex-husband Corey.) The couple must be getting along well because just last week, Leah expressed their desire to have another child.
"Oh my I love having my girls. Their [sic] fun and when [Jeremy] is gone it's all #GirlTime hehe but we hope to have a boy," she tweeted.
Whatever is going on with Leah and Jeremy, 'Teen Mom 2' fans will be treated to a front-row seat this season!
(Photo: Facebook)