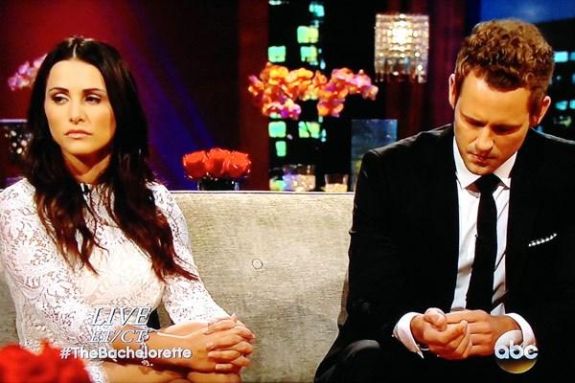 For all of you that actually have lives and went out last night instead of watching The Bachelorette finale, The Ashley must give you fair warning: SPOILER ALERT!
********
Things got awkward and tense on last night's "After the Final" special when Andi Dorfman came face-to-face with Nick Viall, the man she rejected in favor of Josh Murray (who, in case you hadn't heard, used to be a baseball player!) Nick, who according to Chris Harrison had tried to contact Andi multiple times since she bid him farewell in the Dominican Republic, was still obviously heartbroken when he appeared last night. While he became tongue-tied when he finally got the chance to talk to Andi, he did manage to embarrass her on national TV!
After Andi told Nick that he deserved to find love again, and that it should be with someone who loves him back, Nick became angry.
"The hard part is…feeling like you did [love me]," Nick told Andi, adding that on their last date she mentioned that she wished she could say "I love you" back to him. "If you weren't in love with me, I'm not sure why you made love with me?"
Dammmmmn!
That comment most likely made Andi feel like a great big ol' tramp for getting frisky in the Fantasy Suite with multiple guys. She quickly became angry that he brought up that up, telling him that he had hit "below the belt" and that those events should have remained "private."
Nick went on to explain that sex is very special to him, which is something we don't often hear from a guy on 'The Bachelor' franchise.
"To me, that night, that was like fiance-type stuff," he told her. "That meant so much to me. That mean something to me. That meant the world to me."
Andi was clearly unhappy, and she wasn't the only one. Her friend, Nikki Ferrell, whom she met on Juan Pablo's season of 'The Bachelor,' was livid, and used her Twitter account to accuse the show's producers of setting up the entire thing.
"Gee I wonder who told Nick to say that," she tweeted. "How the producers of @BachelorABC sleep at night is beyond me. #Trash"
Here's The Ashley's take on the situation: Andi should have seen Nick at the Men Tell All when he came down to speak to her. They could have had this conversation in semi-privacy (the cameras would have been there most likely, but at least it wouldn't have been on live TV) and Nick could have gotten closure. Andi is happy and engaged to Josh, but Nick is still upset and she owed it to him to at least answer his questions. Was he wrong to ask her why she had sex with him if she didn't love him? No. He told her how much sex meant to him, and that he doesn't just boink every girl that comes along. For the situation, that was a fair question.
Roundupers– what did you think of this situation? Tell The Ashley in the comments! Stay tuned for The Ashley's full recap of the entire hot mess 'Bachelorette' finale episode, coming soon!
UPDATE: Andi's fiance, Josh, was not happy about what Nick said. He gave his thoughts on the situation to RumorFix on Tuesday.
"To be honest it was very classless and disrespectful and it just shows the type of person he really is," Josh told the site. "And I don't associate myself with those kind of people and neither does Andi, so it's nice that that's over with now and he's of no concern to us or our lives. I think it's all funny. I really don't pay any attention to Nick, I am just really happy about Andi and I. And we have a phenomenal relationship so that's all I care about."
(Photos: ABC)