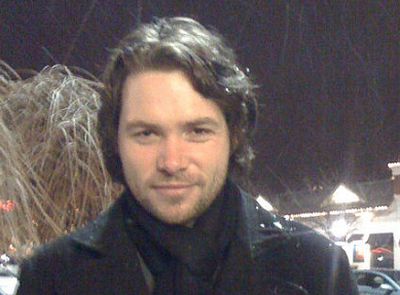 The Ashley is sad to report that American Idol Season 7 finalist Michael Johns has passed away at the age of 35. Michael finished in eighth place on the David Cook season of the reality show. According to People, Michael died from a blood clot in his ankle on Friday.
"It is with a heavy heart and inconsolable sadness that we confirm the passing of our friend Michael Johns," the admin of Michael's website tweeted on Saturday. "No other details will [be available at] this time.Please respect the privacy of Mike's family and friends as we know u will. Members and admin of @mjohnsonline pass on their prayers."
Michael's Season 7 cast mates, which include David Archuleta, Carly Smithson, Brooke White and Jason Castro, have yet to tweet about the tragic news. Michael Orland, a vocal coach for 'Idol' and friend of Michael's posted a message about his friend's death to his Facebook page.
"I'm very sad about my pal Michael Johns – he was a talented guy and I loved him and his talent very much. We wrote a song recently and so sad we never got to record it. All my sympathy to his wife and family and friends and fans," he wrote.
Other 'Idol' alum posted their memories of Michael to their Twitter pages.
For those of y'all who haven't heard, the world lost Michael Johns (@michael_johns). He was a truly great guy.

— Tim Urban (@TimUrbanMusic) August 2, 2014
My friend @michael_johns passed yesterday. Please keep his family in your prayers. He was a wonderful, kind spirit that brought joy to all.

— Bo Bice (@OfficialBoBice) August 2, 2014
Blake Lewis, who starred on the season before Michael, became good friends with him after meeting because of the show. He took to his Facebook page on Saturday to mourn the loss of his friend.
"Yesterday I found out my good friend and fellow idol Michael Johns passed away," Blake wrote. "He was the nicest, most talented and charming bloke you'd ever meet. He was just over for the 4th of July and now his soul is singing with the angels. It so surreal to lose a friend and we never know when it will be our last day on this planet. Tell your friends and family you love them today. May he rest in peace and his memory live on to those he touched. You will be missed my Aussie brother."
Michael was an Australian native that was a fan favorite during Season 7. With his good looks and soulful voice, Michael seemed to be a contender to win until he was voted off in a shocking elimination during week five. He went on to independently release an album in 2009 that reportedly sold 20,000 copies.
Aside from being a hunk, Michael was also an all-around nice guy. The Ashley had the pleasure of meeting and hanging out with Michael at the 'American Idol' Season 7 finale after-party and found him to be a kind and funny person.
Michael had no children, but had been married to Stacey Vuduris since 2007. The Ashley sends her condolences to Michael's family and friends.
(Photo: Facebook)