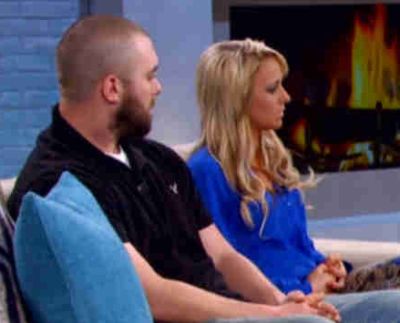 Is Corey Simms a deadbeat dad? That's certainly what Teen Mom 2 star Leah Calvert was implying when she took to her social media accounts on Saturday to publicly shame her ex-husband for something in regard to their twin daughters.
It was a surprise to fans, who have watched Leah and Corey evolve into friends and great co-parents to the girls over the course of the series. Corey appears to be a great father but Leah's social media postings seem to tell a different story. She hinted that she had to pursue legal action against her ex-husband to get him to step up.
Leah started her social media tirade on Saturday, when she posted a comment to her Facebook page.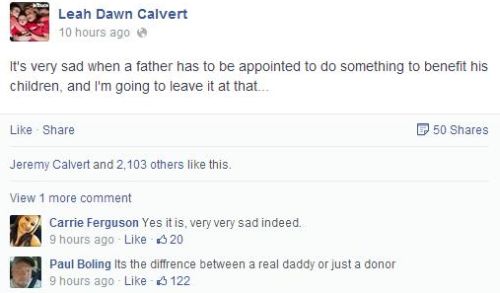 Since Leah has multiple baby-daddies, she admittedly could have been talking about her husband, Jeremy Calvert, who is the father of her youngest daughter, Addy. However, Jeremy "liked" the post, which basically confirmed that the rant was about Corey.
Leah, who admittedly loves drama, continued to stir the pot by then heading over to her Twitter account. In her tweet, which thanked a person she called "the best divorce and custody lawyer," it appeared that she was trying to keep fans guessing as to whether or not she and Jeremy were divorcing by adding in that the custody lawyer also handled divorce cases.

Coincidentally, Lyne Ranson was the same lawyer she used during her divorce from Corey back in 2011.
It doesn't appear that Corey is having any money trouble. The Ashley has confirmed that he is up-to-date on all of his tax payments, including the payments on the West Virginia home that he shares with his wife, Miranda. (She was not able to see if he was behind on child support payments, however.) Leah may be talking about Corey's time, or possibly, something to do with his insurance to get Ali her wheelchair. (Corey's dad Jeff confirmed on his Twitter a few days ago that Ali has still not received her wheelchair and is using a "loaner" currently.)
This is not the first time that Leah has chosen to make things that are going on between her and Corey public. During the Season 5A reunion show, she chose to expose the fact that Corey had cheated on Miranda early in their relationship. An online spat between Corey and Miranda and Leah resulted. (Click here to read about that!)
The Ashley will update this story when more information becomes available.
(Photo: MTV)