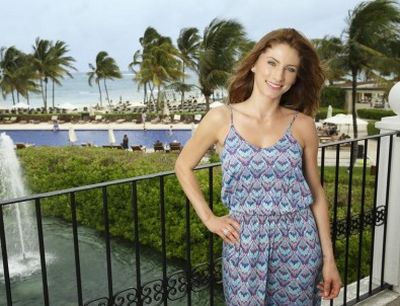 Poor Ryan Putz. Not only was he saddled with the most unfortunate last name, but he fell hard (literally) for Bachelor in Paradise star Michelle Kujuwa during the first week of the show's production.
On tonight's episode,  host Chris Harrison gave viewers more insight as to why Michelle chose to leave during Week 1. Although she claimed that she was leaving Paradise because she had failed to "connect" with any of the men there, Chris revealed that there was much more to her departure than that.
Apparently Michelle and Ryan Putz, who worked as part of the sound and camera crew on the show, hooked up after meeting at the hotel they had been put up in before filming began. Due to her "relationship" with Ryan, Michelle decided to forgo her chance to "find love" with the Paradisers and left.
From what Chris Harrison told viewers, Michelle and Ryan decided to have one more romp in the sack before Michelle left Paradise the night of the rose ceremony. Unfortunately, a producer knocked on the door during their, um, special time, and Ryan, fearing the loss of his job, chose to jump out of the third story window to avoid being seen. He ended up breaking both legs from the fall.
So who is Ryan Putz? He's an experienced sound and camera guy that has worked on a bunch of movies, including '22 Jump Street,' 'Hot Tub Time Machine 2' and 'This Is The End.' He has served as a sound mixer on many popular reality shows, including Top Chef and Taking the Stage. He worked as part of the production team for several episodes of Kitchen Nightmares and Extreme Makeover: Home Edition.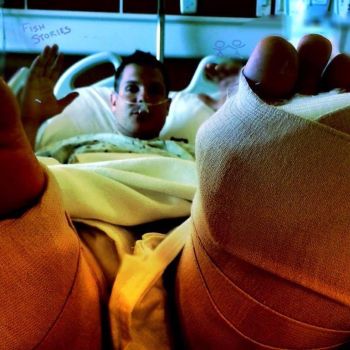 After the incident happened, Ryan let his friends and families back home know about the accident. He posted a sad-looking photo of himself and his leg casts on June 30, but offered no explanation as to what happened. (Can you blame him?! That's not exactly something you'd be proud to share.)
Ryan posted the photo nearly a month after the accident happened. (The show's filming started on June 4, so the balcony jump most likely took place on June 4 or June 5.)
Unfortunately for Ryan, the only thing that appears to have come from his tryst with Michelle is his shattered limbs. They are not currently in a relationship. (She lives in Southern California while he resides in New Orleans.) They do, however, appear to be friends. Michelle posted this to her personal Facebook before Monday night's episode started.

In the comments of another 'Bachelor in Paradise' post, Michelle told her friend that she is positive her 'Bachelor' days are over.
"They will NOT I guarantee," Michelle answered when asked if she will get asked back for another 'Bachelor' show. "I'd be shocked! Love to do DWTS though. I'm not a star and a lil crazy so I'm sure my chances are slim to none."
In a post on August 6, Michelle told her side of the Putz story:
"I came on the show VERY single," she wrote. "Actually was going through a very hard break up of three years…And to bring back the 'crazy' Michelle doesn't bother me. If that's what the Bachelor franchise wants me to be, ok roll with it. I'm not upset. Disappointed…yes. They are great at what they do and they will only show the good side of people they choose. EVERYONE that's apart of these Bachelor shows are good. Do you really think that if there were 'crazy' people that wanted to be on the show they would allow it? I highly doubt that. They just already know who will crack faster than others under certain situations so that's how they get you. Oh and of course force feeding you with alcohol and putting you in isolation before/after the on camera action doesn't help."
(Photos: ABC, Facebook)