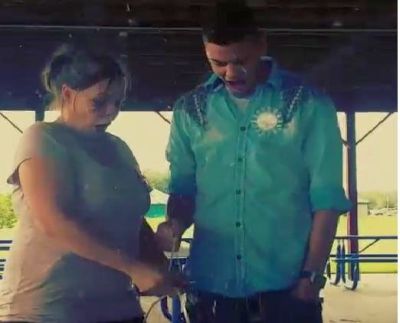 In 2009, Catelynn Lowell and Tyler Baltierra placed their daughter, Carly, for adoption during their heartbreaking episode of 16 and Pregnant. Five years later, Catelynn and Tyler announced that they are expecting their second child and that they now know the sex of their baby!
The Teen Mom stars found out over the weekend whether Catelynn, who is four months pregnant, would be having a boy or a girl. Their friends threw them a "gender reveal" party, featuring decorations for both boys and girls.
"Today is the day! We finally get to find out if we will have a son or a daughter #Anticipation #IsKillingMe," Tyler posted on his Instagram on Saturday.
The couple found out by pulling a string on a pinata.The candy that fell out of the pinata was pink, signaling that Catelynn and Tyler will be having another little girl.
They shared the moment with their fans by uploading a video to Instagram. Check it out below!
'Teen Mom' fans may get to see Cate and Ty's baby girl on their TV screens. The couple, as well as the rest of the original 'Teen Mom' cast (minus Farrah Abraham) are currently filming a new season of the reality show, set to air next year.
Congrats to Catelynn and Tyler!