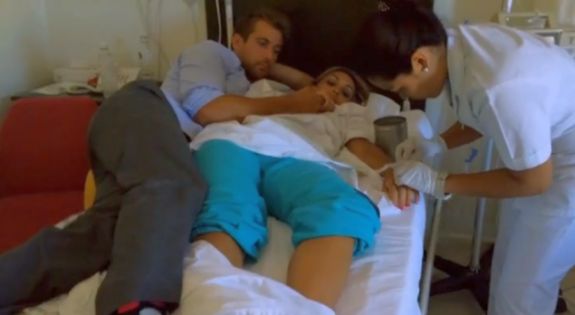 The producers of Bachelor in Paradise are just straight evil people. They are determined to make us feel even worse about our already pathetic lives. In case you don't feel terrible enough about yourself for devoting two hours a week to watching what is possibly the most horrifically ridiculous show in years, they went ahead and added a second episode this week! Of course, watching four hours of crap is pathetic but, come on, what do we really have planned for our Tuesday night anyway? Watching something with redeeming value like Game of Thrones or something? Come on! (Is that show even on anymore? The Ashley honestly has no clue. If people aren't crying in limos, she's  just not that interested.)
To catch up on what you missed on Monday night's episode, click here!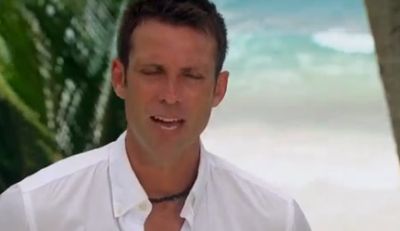 Anyway, when we left off with the Paradisers on Monday night, Graham was all keeled over outside the rose ceremony. We start Tuesday's episode with Graham still looking like he's one penicillin shot away from death. The medics come out to examine Graham (and bring the Windex, naturally), while Michelle rushes to get him water.
AshLee, meanwhile, stands on the platform fixing her extensions, totally oblivious that her beloved is sweating from every inch of his body and about to basically die. She actually seems annoyed that Graham stole all the attentions from her rose-giving moment.
Finally, Graham collects himself enough to continue. (Well, actually I think they just had a production assistant stand behind him and hold him up.) AshLee again tries to present the rose to him, but this time he accepts. Graham's acceptance of the rose makes Lacy physically ill…or something. She tells the producers that she is going to go throw up so, naturally, they follow her so we all get to share in the fun of seeing her yak. (Thanks, guys!)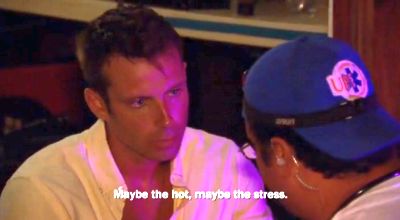 Michelle says that Graham and Lacy are both physically effected by all the drama. (Of course, there's other reasons for all the heaving: they all could have had bad carne asada for lunch, or the syphilis may just be kicking in.)
Marcus convinces Lacy to go to the hospital and they have to IV her in the ambulance. She's cramping and vomiting up a storm, and Marcus goes with her to the hospital.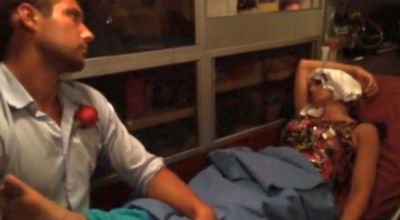 People be puking and collapsing but that certainly isn't any reason to stop a rose ceremony! The producers are demanding that everyone go back to their places and hand out the rest of the damn roses! It's time for Michelle to give out her stupid rose. Michelle chooses Cody, and Sarah chooses Robert. Jackie is the last hope for Kalon, Marquel and Jesse to get a rose and get to stay on the beach for another "week." Jesse is sweating like Graham having a hot flash, but is relieved when Jackie chooses him, leaving Marquel and Kalon roseless.
Kalon has only been on the island for one day, and went on a date solo, so he doesn't really care about getting the boot.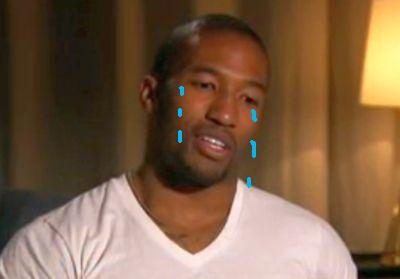 Marquel, however, does a classic limo cry, commenting that he hopes to be able to find love someday. (You probably could have been in the running to be the next 'Bachelor' if you hadn't agreed to be on this stupid show, bro!)
Meanwhile, at the hospital, they are unloading Lacy's corpse from the ambulance. Later, they say that her intestines were inflamed, and heaving didn't help. She ended up being dehydrated, but is expected to make a full recovery and be frolicking in a bikini in no time. Thank the Baby Jesus!
Back on the beach, Clare is feeling fresh and excited. (She must have gotten herself some of those Summer's Eve cleansing cloths!) She keeps talking about how she and Zack are unbreakable and how Zack can't get enough of her. Such positive sentiments can only mean one thing…
Just then, another girl arrives. It's Christy, who was apparently on Juan Pablo's season. I have no clue who she is. (You'd think I'd remember her Kelly Bundy-esque  hair but I don't.) Of course, Christy arrives with a date card, and all of the other girls are nervous that she will take their man. Sarah tries to fill Christy in on who's boning who, but Christy wants to ask Zack out. She pulls him aside, and all the other girls breathe a sigh of relief that Kelly Bundy won't be taking their man. Clare, however, does not know that Christy is trying to move in on her man.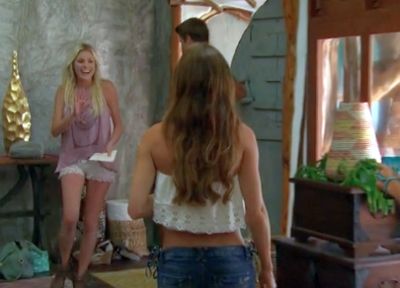 Christy offers the date to Zack, just as Clare walks in.  Clare is angry when she finds out, until Zack tells her that he told Christy that he wouldn't go on the date. She tells us that Zack turned down Christy because he wants a relationship with her. (Well, that, and because he's terrified that Clare will run a lawnmower over his head while he's sleeping if he says yes.)
This wasn't a good decision on Zack's part. I mean, we don't know much about Christy but we know that Clare talks to raccoons and is on her way to life in the looney bin. He should have picked Christy.
Since Zack turned her down, Christy asks Jesse to go with her. He, of course, accepts.
Christy and Jesse arrive in the town of Yucatan, where old Mexican people go to the center of the city to spin around in a circle with their arms up. They go in search of "tequila…and um, other booze that's known here," Christy tells us. They do a bunch of tequila shots and then Christy asks Jesse if he feels guilty that he accepted Jackie's rose the night before, and then went on a date with her. Of course, Jesse doesn't feel guilty because, well, YOPO– You Only Paradise Once!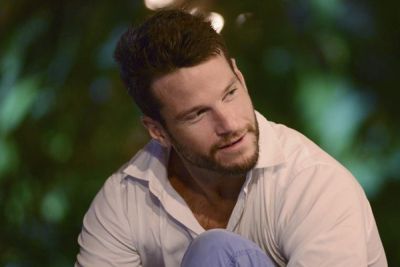 Christy has issues of her own: she dated a sex-obsessed cheating douchebag before coming to Paradise. She tells Jesse how she found a bra in her ex-boyfriend's bed and Jesse seems all too familiar with the story, and even tells her the lies he would have told had it been him. But, you know, don't worry, I'm sure he's a completely stellar individual that will treat you like gold.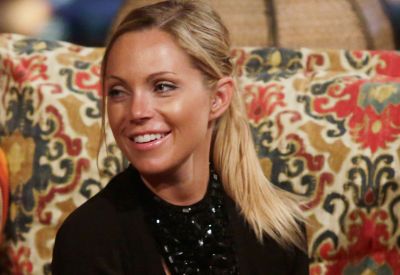 Back at home, a date card arrives for Sarah. She chooses Robert to go with her. They kick off their date by walking through an alley (because that's always what you want to do when you're in Mexico). They have a romantic dinner, where they feel each other's hands, bop heads and act more awkward than Taylor Swift when she's dancing in her new music video.
Robert invites Sarah to take a swim with him in the private pool. Sarah's worried that Robert will think of her as just a friend (you should probably ditch the one-piece swimsuits then, just saying!) They do pinkie kisses and he even gets Sarah to sit on his lap but Robert still doesn't have the balls to kiss her.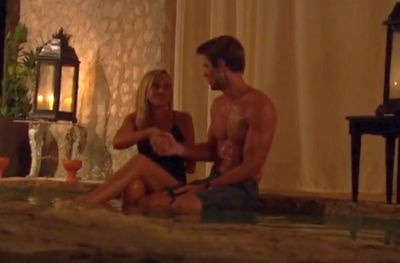 Finally, he goes in for the kiss, which thrills Sarah. She says that kissing him is her "wildest dream" coming true. Your wildest dream is kissing in front of a camera crew while wearing a one-piece bathing suit? Girl, you've got to read some romance novels or something.
Back at the house, Christy has turned into a drunken lush now that she and Jesse have returned from their date.
"I could be going home in two days, I want to get wasted!" she tells the group.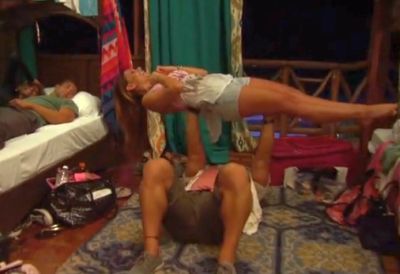 Back at home, Cody is using Michelle as a barbell (as you do). Lacy says that Cody is coming on a bit too strong– painting Michelle's toenails, pawing all over her and talking about how much he likes her. He tells her, "It's you or no one." (Well, or Clare.) He tells her her wants a girlfriend that's mature, which is why he likes Michelle. (Wait, did he just call her old?)
Michelle says that she, too, is falling hard. She busts out the classic pickup line, "Can you believe how big your quads are?" Cody just melts. But, then again, who wouldn't?
Zack tells us that he has feelings for Christy who's free and outgoing (Re: loose as a goose), while Clare's a dramatic pain in the ass. He tells Clare that he's still trying to figure out if a relationship with her is "the right thing to do." As soon as he tells her that, they start playing the horror movie killer music. Clare.Is.Not.Happy. She yells at him and then goes to bed, leaving Zack sad and confused…and most likely scared for his life.
Of course, she doesn't go to bed. Instead, she runs off into the jungle (as you do!) and suddenly her trusty pal, the raccoon, arrives. Clare pours out her heart, talking about how she is having a panic attack because of AshLee's drama and Zack's indecisiveness. Of course, we know that Clare isn't really talking to the raccoon. However, she only looks slightly less crazy when we realize that, while she's not talking to a beach rodent, she is talking to herself.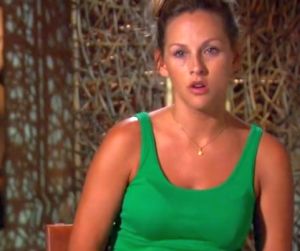 This women is 33 years old, mind you. Somewhere out there, Juan Pablo is pumping his arms in celebration, knowing that he dodged that bullet.
After her jungle talk with the raccoon, Clare heads back to the house and tells Michelle that she's leaving because she's not here for games.
"This is not paradise for me, it's torture!" she wails. Later, she heads to Zack's room, where he is fast asleep. Clare creeps up on him and wakes him up so she can continue the "fun." They go outside and Clare keeps rambling about their "relationship." Zack is doing his best to keep his eyes open as she talks about "red flags" and "listening to her gut" and all that. She then tells him that she's going home, which is the only thing that perks him up.
"I wanted us to be, like, perfect," Zack tells her. He tells her that every second he's had with her has been unbelievable. (Well, actually, that's not really a lie.)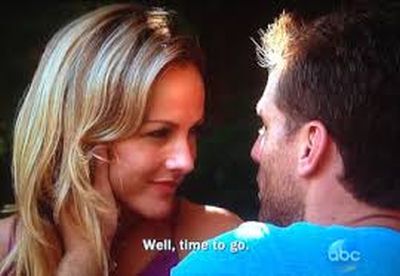 Of course, he doesn't try to get her to stay. In fact, he helps her with her bags! ("Don't worry about your stuff, I'll ship it to you! Just get in the van!")
She heads to her final confessional, where she's mad to "go out looking like sh*t once again." Her confessional interview is basically just her crying and talking about how she always gets her heart broken. With that, Zack shoves her into the airport van and closes the door, closing the book on that crazy bio-tch.
The next morning, Michelle is wondering if Zack went home with Clare. I'm wondering if he has already made it to Christy's bed…or if he'll wait to have a protein shake before bedding her.
Just then, a girl walks in from the beach. It's Lucy, the ever-naked "free spirit" from Juan Pablo's season. She's not wearing a bra or panties, which Cody is more than happy to point out. She's overly friendly, and greets everyone with a hug. (Anyone else think this girl would totally always smell like onions?)
She has a date card, and it takes her about two minutes to get naked.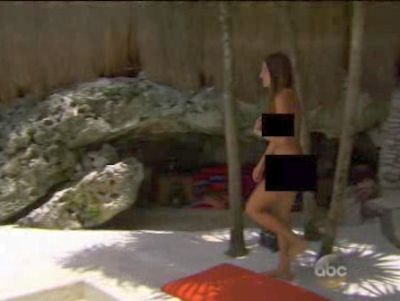 "Having a cute topless chick running around is what I pictured when I came to paradise," Jesse tells us. Lucy asks Jesse, while topless, if he wants to go on the date with her. Of course, he accepts, so they celebrate by swimming in the ocean.
Christy is a little mad that her pal Lucy is going out with the guy she literally just tongue-wrestled a day ago. Still, Lucy and Jesse head out, and Jesse is having a great time on the date, and tells us that he can't wait for Lucy to take her clothes off again.
"I've already seen your t*ts so where do we go from here?" he asks. He should really write Valentines for a living, that man…
Lucy and Jesse make out (because…of course they do) and Lucy insists that they can't tell anyone at the house that they kissed. They make it back to the house and Jesse talks to the camera about how he likes Christy a lot but he likes um… "what's her nuts" oh, yeah, Lucy too. He doesn't know which girl he wants, so he decides to just bring trays full of alcohol to all the girls in hopes that he'll get to bang at least one.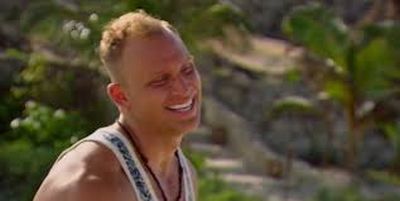 Later that day, a date arrives for Michelle. She asks Cody to join her, so they leave the Chlamydia Kingdom for some alone time. Michelle, is, of course, all suited up like a cowboy stripper at Chippendale's in her leather fringed boots and skirt. She tells us she doesn't want to move too fast with Cody. They arrive at a hotel where they meet with a wedding coordinator who tells them that they'll be taking engagement photos…on their first date. Good thing they aren't moving too fast or anything.
He's rambling on and on about how much he likes Michelle, while the photographer awkwardly snaps photos. He tells them to "change-a da clothes." Of course, there's a wedding dress waiting for Michelle to put on. Cody has already changed into a white button down shirt (opened down to his navel, of course), but Michelle is freaking out about putting on the wedding dress. She says this will intensify things with Cody, and that this is drudging up bad memories from her first marriage.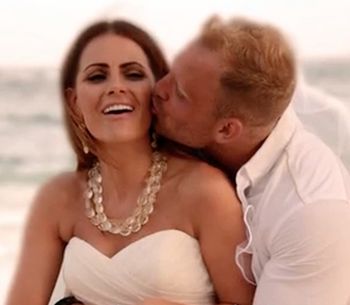 She starts yelling at herself (or the dress…or something) before finally putting on the dress and veil. A 'Bachelor in Paradise' cast member in a white wedding dress? Seriously, that's the funniest thing I've seen all season.
Graham and AshLee are the next people to go on a date. They arrive at a racetrack, where they learn they will get to drive some racecars. Of course, AshLee, being the biggest buzzkill on the island (and possibly planet Earth), says that she doesn't want to do the date, and will only drive about 20 mph. Still, she drives the car, and then it's Graham's turn. He somehow manages to compare his relationship with AshLee to driving a fast car. (Um, yeah, if you do both things too much they will both make you sick.)
Back at the beach, everyone is coupled up except for Christy. She's feeling alone so she says she's just gonna keep drinking.
"There's so much booze and no one's drinking it!" she wails. Um… #DrunkWhiteGirlProblems
She retreats to her room to cry about how alone she feels. She goes to talk to Jesse, which soon turns into a makeout session (complete with bad HBO softcore p0rn music playing in the background). They make their way to the bedroom and Jesse is about to put his eggs in Christy's basket.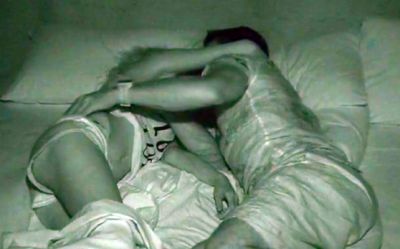 Lucy, however, is sad that she's being left out of the fun so she just walks into their bedroom and jumps in bed with them. We don't get to watch the threesome, but we do get to hear Jesse groaning like a dying bear.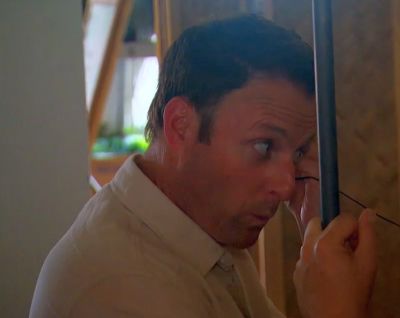 We are not allowed inside the bedroom, but we all can only imagine what was happening in there.
"That's like, really, horrible and awkward," Sarah tells us. No, that's, like, the only exciting thing that has has happened on this episode.
The next night is the rose ceremony. The ladies are nervous because the guys are giving out the roses. Jackie, Christy and Lucy seem to be the odd women out, and Jessie and newly single Zack are the wild cards. Since Clare left "angry and brokenhearted," Chris Harrison explains that only woman needs to go home now.
It's time for the Slut Shuffle, but only a few girls even need to do it. Cody is all over Michelle and ensures her that she has his rose..forever. Zack goes to Jackie and tells her now that Clare's out of the picture, he's interested in "getting to know" her. Jackie's over Jesse, so a relationship with Zack is looking pretty nice.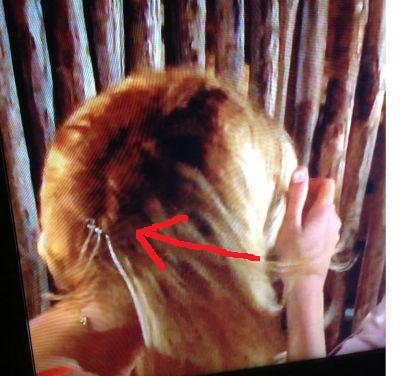 Jesse pulls Christy (and her terrible hair extensions with visible tracks–gurrrrl!) aside and she lies and says how much she wants him, etc. She says she's hoping that seals the deal for his rose. Well, that and the fact that you and your friend banged him, of course.
Lucy also tries to convince Jesse to give him her his rose, so she decides to reveal a big secret to Jesse. She informs him that Christy didn't know it was him when he crawled into her bed and that it could have been any Tom, Dick or Cody trying to bang her and she would have let him. That doesn't make Jesse feel good, of course.
It's time to give out the roses. After Chris Harrison informs them how important this rose ceremony is (LOL's), he calls Robert to hand out his rose. Robert gives his flower to Sarah, who accepts with a kiss. Graham gives his rose to AshLee and Cody chooses Michelle. (He tells us that Michelle will get all of his roses "forever and ever and ever.")
Marcus goes next, and of course he has to ramble on and on about how in love he is with Lacy. Jesse rolls his eyes and a couple of the "Forever Alone" girls look longingly at them, wishing they were Lacy. Next, it's Zack's turn. Since he managed to ditch Claire, he offers his rose to Jackie, who accepts. Finally, it's down to Jesse, who has to choose between his two threesome partners Lucy and Christy. (I guess we're about to find out who's better in bed…)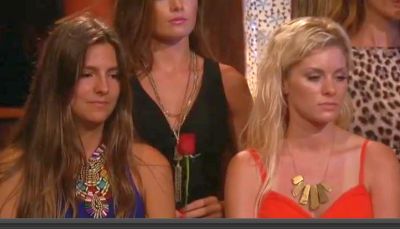 He gives his rose to Christy, who is both thrilled and, well, drunk. She slurrily accepts the rose, leaving Lucy roseless. Lucy is forced to leave, and all of the cameramen mourn the loss of her and her exposed body parts.
Next week, everyone will fall in love, and Michelle will get freaked out when Cody tells her that he loves her after only a few days. And, another guy will arrive. Please pray to the Baby Jesus that it's Juan Pablo.
To read more of The Ashley's recaps, click here!