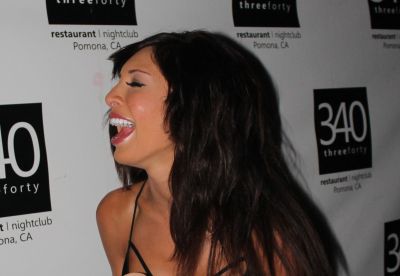 Teen Mom just won't be the same without Farrah Abraham and her signature "Ugly Cry and Whisper" combo, and Farrah is slamming her former co-stars–Maci Bookout, Amber Portwood and Catelynn Lowell–for agreeing to do another season of the reality show after a two-year hiatus.
Farrah, who wasn't invited back by MTV to participate in the show's fifth season, due to her letting people stick their body parts in her body on camera, says that without her, the show isn't worth watching.
"I don't think it will be as great without me," Farrah told Life & Style.

Of course she doesn't….
Farrah said that she won't be watching the reboot, and that the rumors that the other girls specifically said they didn't want her to be part of Season 5 are false.
"No one ever said they wished I would not be back," Farrah told the magazine. (The Ashley has her doubts on this. While Farrah and Catelynn ended their year-long feud earlier this month at the Couples Therapy All-Star Reunion taping— Farrah does not get along with either Maci or Amber, so it's very likely Catelynn, Maci and Amber all banned together to ask that Farrah not return.)
Farrah decided to take a jab at her former co-stars by basically saying they only took the gig because they needed the money. (This, of course, is actually probably true. Amber is still getting her life in order after being released from prison, Catelynn is having another baby and could probably use the extra cash, and Maci needs money to pay her bar tabs and back taxes.)
"Some of the moms on the show still need that," Farrah said of the 'Teen Mom' paychecks. "Fortunately for me, I have other ways of making money. I can't keep doing the same things year after year."
Yup, other ways such as this…oh, and this.
The fifth season of 'Teen Mom' will premiere sometime in 2015.