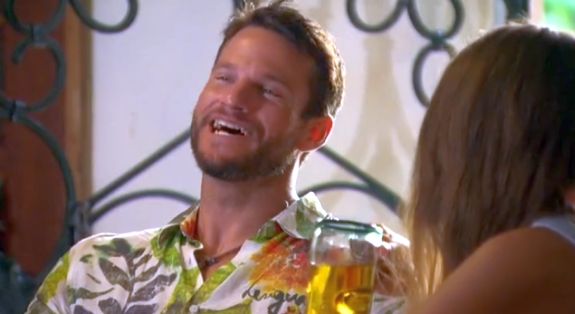 Each week, we trash TV lovers put our better judgement aside and tune into Bachelor in Paradise, happily watching as the ocean sexcapades, ridiculous love triangles and assorted medical emergencies play out before us. While we know this show is all about "love" and drama, there is apparently a lot we viewers don't know about what really happened in Paradise.
Jesse Kovacs, who joined the show a few weeks ago, was kind enough to spill some of the show secrets during an exclusive interview with The Ashley! Here are a few things you may not know about 'Bachelor in Paradise'….
1. Courtney Robertson was supposed to be on the show
Courtney, the villainess and eventual winner of Ben Flajnik's season of 'The Bachelor,' was originally slated to be the Queen Bee of Paradise…until she decided to write a book that revealed all of the shows' secrets and trashed the franchise. In fact, Jesse said that Courtney is the partially responsible for him getting to go to Paradise.
"They were planning to cast Courtney for the show but then there was some conflict because of her book," Jesse told The Ashley. "She was going to be on the show and they had asked her if there was anyone in particular that she wanted to see on the island and she said my name. That's what she told me at least. So that's why the producers called me to kind of gauge my interest in doing [the show]."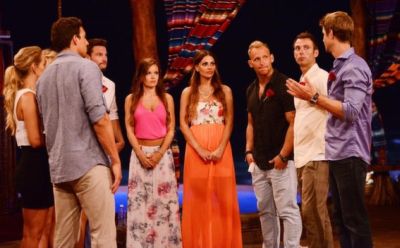 2. Men and women aren't allowed to talk to each other on rose ceremony days
Marcus wasn't allowed to get any pickle-tickling from his main squeeze, Lacy, on rose ceremony days. According to Jesse, the men and the women are completely separated all day leading up to the rose ceremony that night.
"We weren't allowed to see each other, and for the rose ceremonies we don't start getting ready until about 7 or 8 at night, so basically we had all day with nothing to do," Jesse said.
This, of course, led to some very bored Paradisers who did doing some ridiculous activities to keep themselves amused. The guys used this downtime to participate in crazy contests , said Jesse.
"We would go down to the beach and throw rocks and try to get coconuts off the tree, we'd have handstand competitions, play football and tackle each other," he said. "We would just do stupid sh*t that little kids do. But when you're put in that situation and everything is so monotonous, what are you going to do? You can only nap for so long!"
The producers kept the guys and girls separate so that they couldn't work out deals with each other, or strategize about who they would give their roses to.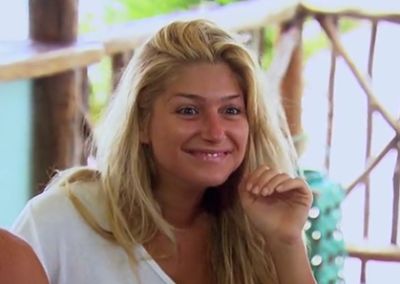 3. "Crazy" Elise is currently teaching your children.
That's right: The girl that mindless rattled on about "rainbows" and declared her love for two different dudes within days of meeting both of them is currently shaping the young minds of America. Believe it or not, Elise was actually a teacher before she took a leave of absence from her job to go on Juan Pablo's season of 'The Bachelor.' After taking two full school years off to pursue her reality TV dreams, she's now back to teaching.
She started a new school year in Pennsylvania last week, according to the TimesLeader, her area's local newspaper. She is now instructing the third-graders of Pennsylvania on how to do long division—and how to remain a lady, even after straddling some dude you just met in the ocean.
4. Lucy Aragon found "love" before she even got to Paradise
Lucy was booted from the island after only one date and one episode, but she didn't seem too broken up about it. That may be because Lucy, who once dated Snapchat CEO Evan Spiegel, met a guy on the plane ride to Paradise! In a red carpet interview, Lucy admitted that she met a "new boyfriend" on the way to film the show.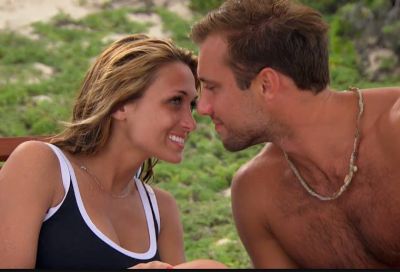 5. There's a reason that all of the men are wearing those stupid puka shell necklaces
Puka shell necklaces went out of style about the same time as frosted tips for men did, yet the men of 'Bachelor in Paradise' always seem to be sporting them. The guys weren't exactly thrilled to wear them, but they were required to by production.
"Trust me we put up a fight! They were microphones," Paradiser Robert Graham tweeted when asked about the necklaces.
The men rarely wear shirts on this show, so the producers had to get crafty to prevent them from having an unsightly mic taped to their bare chests.
6. Jesse, Christy and Lucy did not have a threesome
Jesse claims that he did not hook up with Christy and Lucy on the night in question…at least, not at the same time.
"There may have been some activity between myself and Lucy on the way back from our date," Jesse told The Home Directory. "But then once we got back to the resort, we all kind of just separated, and I ended up sort of hooking up with Christy, and fell asleep in their hut. Christy and Lucy were sharing this hut, and I woke up at like 5:30 in the morning, and I literally opened my eyes, and Lucy's face was like a couple inches away from mine. I kind of shook it off and stood up and grabbed my clothes and got out of there. The whole threesome thing, that didn't happen."
Allegedly.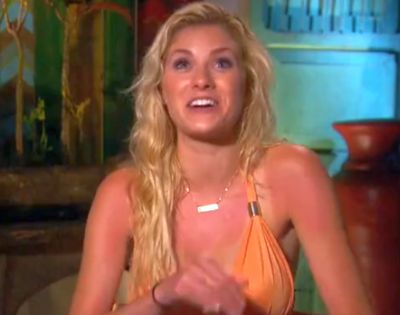 7. Some Paradisers got paid more than others
While the girls and guys cast to be on 'The Bachelor' and 'Bachelorette' are not paid to go on the show (except for the star, of course), things were a little different in 'Paradise.' The cast was all paid to participate; however, not everyone made the same amount of money. According to Reality Steve, the cast members that were more popular and well-known got a much bigger paycheck than the ones that no one knew.
"They were given a flat contract, bigger names got bigger money," Steve said in a Dish Nation interview. (People such as Robert Graham and Lacy Faddoul, who were only featured on one episode of their initial seasons were probably the ones with the smaller chunk of change, while folks like Michelle Money and Marquel Martin, who were well-known, most likely received more.)
Steve was not sure how much the cast was actually paid for this show. With 'Bachelor Pad,' for instance, Steve claimed that the cast was paid $750 for each episode they appeared on, which motivated them to try to stay longer. On this show, they received their contracted salary regardless of how many days they stayed in 'Paradise.'
Stay tuned for The Ashley's full interview with Jesse Kovacs, coming soon!
To read The Ashley's latest 'Bachelor in Paradise' recap, click here!
(Photos: ABC)