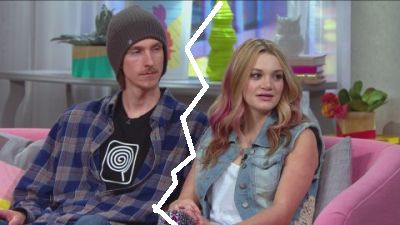 Yes, The Ashley can appreciate the irony of that headline. Saying a 16 and Pregnant couple was "sexless" is kind of an oxymoron but, in this case, it's true.
Courtney Ames— who starred on the recent fifth season of '16 and Pregnant' and is best remembered as the girl that became abstinent after giving birth to her son, Dayton– has split with her live-in boyfriend, Scott. The couple, who had planned to get married, is no longer together and it sounds like Courtney is the one that called it off.
"I don't want to marry Scott anymore," Courtney wrote recently on her Ask account after confirming the split. "We tried…. I gave my everything and it kills me that Dayton is going to have a split family but I'd rather him have a happy momma."
As you '16 and Pregnant' fans may remember, Scott wasn't exactly thrilled with his girlfriend's new-found abstinence declaration, and seemed to have a hard time accepting it. The couple discussed this while at the 'Life After Labor' reunion special with Dr. Drew a few months ago.While that disagreement surely caused struggles in the relationship, it sounds like that wasn't the only thing that caused the split.
"We just are in two different places in our lives," Courtney wrote. "Once we began to argue in front of Dayton I knew it was time to call it off. We need to be happy in order to give our son a happy life."
Courtney denied that the split had anything to do with Scott cheating.
"He would never cheat… We just aren't good together any more," she wrote.
Since Courtney and Scott had been living together (in separate bedrooms), Courtney is going to move back in with her family.
To add to the stress, Courtney's son Dayton was due to get surgery this month to repair his cleft lip, but according to Courtney, the surgery has been delayed.
"Dayton was supposed to have his surgery last Tuesday however they over booked the room so now we have to wait till October," she wrote today.
As you Roundupers know, very few couples that have appeared on 16 and Pregnant end up staying together. Of the 59 girls that have appeared on the five seasons of the show, only 14 remain with their baby's father. In case you are wondering who has managed to weather the storm, here's the list: Catelynn Lowell and Whitney Purvis (Season 1); Samantha Hernandez, Brooke Smitherman, Ashley Salazar (Season 2); Jordan Ward, Jamie McKay and Izabella Tovar (Season 3); Jordan Howard, Mackenzie Douthit, Myranda Trevino and Hope Harbert (Season 4);  Aleah Lebeouf and Karley Shipley (Season 5).