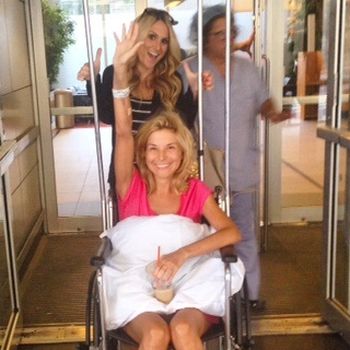 Last month, The Ashley was devastated to have to report that Diem Brown, star of MTV's The Challenge, had once again been diagnosed with cancer. Diem, who has battled ovarian cancer twice in the last 10 years, was diagnosed with colon cancer in August after she collapsed while filming the upcoming season of 'The Challenge' in Panama.
According to Us Weekly, her diagnosis is an "aggressive ovarian cancer that spread into two areas of her colon, with tumors throughout her stomach and stomach lining, as well."
There is some good news to report, however.
According to her official Medgift page, Diem began eating solid foods last week, and was even able to take a few steps in the hospital hallway. More good news came on Friday, when she was well enough to finally leave the New York City hospital she's been at for a few weeks!
"We are happy to update everyone that Diem is OUT of the Hospital!! She is happily recovering at home. Here's a pic of her friend Dana strolling her out on Friday," her friend Alicia Quarles posted on the Medgift page.
Diem has had two surgeries to remove the tumors in her colon, and will soon begin the first of five rounds of chemotherapy to shrink the stomach tumors. After that, she will undergo HIPEC, or hyperthermic intraperitoneal chemotherapy. She is currently using a colostomy bag.
"HIPEC scares me," Diem told Us Weekly."but I'm hoping at the end of all this, I can finally be done and free from cancer once and for all."
A donation page that was set up on Medgift by Diem's friends to help raise money for her medical costs has already raised over $55,000! Her friend and fellow 'Challenge' star Cara Maria Sorbello raised $1,900 of that from selling homemade bracelets on her Etsy page in honor of Diem. To donate to help Diem, click here!
The Ashley will continue to keep you updated on Diem's progress and milestones!
(Photo: Medgift)