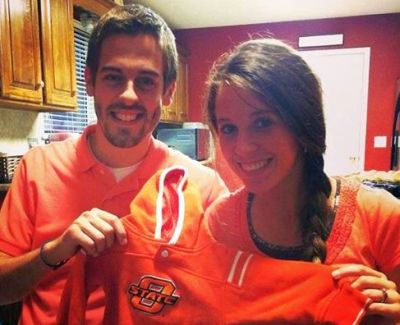 Jill Duggar wasted no time getting pregnant after she married Derick Dillard in June– the 19 Kids and Counting stars conceived just one month after tying the knot. They also wasted no time in announcing their big baby news! On August 20, Jill and Derick announced that Jill was two months pregnant.
While most couples wait until the pregnancy moves into the second trimester (at three months) to announce a pregnancy due the risk of miscarriage being lower, Jill said she had a reason for announcing so early.
"Understanding that the majority of miscarriages happen within the first trimester, and believing that every life is precious no matter how young, we decided to share our joyful news as soon as we could," she told Page Six.
Jill's mother, Michelle Duggar, suffered a miscarriage in 2011. Her 20th child, Jubilee Shalom Duggar, was delivered stillborn.
Derick and Jill, who did not kiss (or get busy) before their wedding day, never had any intention of using any kind of birth control.
"We knew that we weren't going to prevent having children, so when we found out we were expecting within our first month of marriage, we were thrilled!" Jill told the newspaper.
Jill is due to give birth in March, but told Page Six that she is not sure whether or not she will allow TLC to film the birth for '19 Kids and Counting.' (I'd imagine there would be some modesty issues to worry about if they allow a camera crew to film her as she pops the kid out.)
Jill little sister, Jessa, may also be pregnant by next year. She is reportedly getting married in November and if she's anywhere as fertile as her mother and big sis, she'll be announcing her own baby news shortly.
(Photo: Instagram)