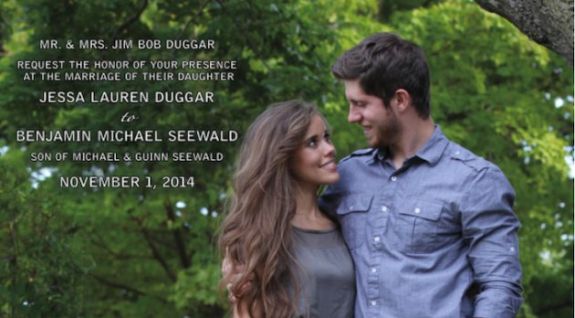 Jessa Duggar and Ben Seewald will be walking down the aisle in less than a month. The 19 Kids & Counting stars have only been engaged for a short time, but are set to marry on November 1. On Tuesday, the couple's wedding invitation was posted to the Duggar family Facebook page, giving fans a glimpse into the wedding theme.
The simple invite features a photo of Jessa and Ben gazing into each other's eyes, while standing in a grove of trees. The invitation has a very nature-y vibe to it, telling us the November 1 wedding may as well.
According to an interview Jessa gave to People a few weeks ago, much of the wedding planning is already done. The invitations have been sent out, the wedding party chosen and the colors decided. Jessa even has her wedding dress all ready to go. It appears that all the Duggars are pitching in to get everything ready in time for the big day.
"I tell you it is very busy," Jessa's father, Jim Bob told the magazine. "Jessa is working on all these details that she and Ben are planning. I really don't have a vision of how to put a wedding together, it is just an endless amount of details and choices. It is overwhelming."
Jessa's mother, Michelle, said she's happy that the wedding planning has allowed her to spend time with her daughter.
"We are enjoying spending the time with Jessa and Ben now," Michelle said. "She'll be doing her own thing and having her own family before long. I realize that all our lives are going to change when she gets married, and I tell her younger siblings that it will be fun in a new way."
Jessa's sister, Jill, got married in June and got pregnant within the first month of wedded bliss. Since the Duggar women tend to be some of the most fertile women on the planet, there's no doubt that Jessa will soon have a bun in the oven.
Wanna see Jessa and Ben's strange Wal-Mart wedding registry? (They asked for an abnormally large amount of weapons, as you do. Nothing says "Congratulations on your wedding" quite like buying the happy couple a hatchet!) Click here to see  what else they asked for!