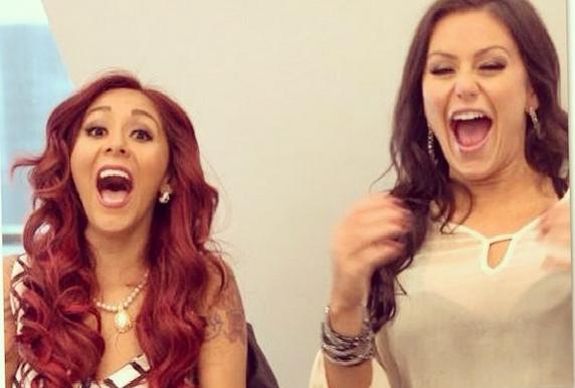 We've watched Nicole 'Snooki' Polizzi and Jenni 'JWoWW' Farley go from party girls to pregnant moms over the course of their reality show, Snooki & JWoWW, and now it's time to say goodbye. The girls announced today that the upcoming fourth season of 'Snooki & JWoWW' will be the last.
Nicole posted a link to the trailer for the new season, which premieres Wednesday, November 5 on MTV, adding that it is "bittersweet," since she knows the show is ending. In a tweet, Jenni revealed that we will get to see the birth of her daughter Meilani, as well as the birth of Nicole's daughter, Giovanna. Nicole hinted that we may also get to see her wedding to Jionni LaValle (which hasn't happened yet) play out onscreen.
In the new trailer, we learn that Jenni and her fiance Roger Mathews were living in a house next door to Nicole, Jionni and their son Lorenzo while filming Season 4.
"Me and Jenni are having two babies," Nicole says in the trailer. "It's going to be a s**t show."
We will also get to see footage of Nicole's bridal shower, a pre-marital counseling session and the girls' dress shopping excursions. (Unfortunately, in some of the scenes it appears that Jenni's face has been plumped, pulled and plucked to the point that she's almost unrecognizable. Click here to see an example pulled from the trailer. Yikes.)
Anyway, in the trailer, Nicole explains what Season 4 will be about.
"It's basically a new chapter in our lives that we've been waiting for forever," she says. "We've got to go out with a bang!"
Watch the Season 4 trailer below:
(Photo: Instagram)