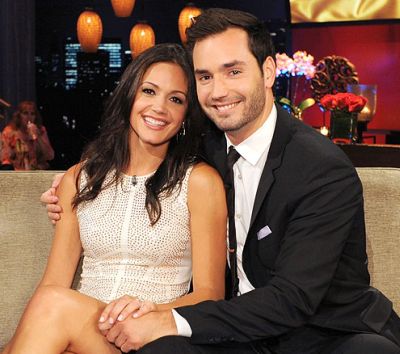 There may be a few more children joining the Bachelor Nation daycare center very soon! Just days after Bachelorette couple Ashley Hebert and JP Rosenbaum welcomed their son Fordham, another couple from the show has come forward with their plans to start a family. Desiree Hartsock and her fiance, Chris Siegfried, whom she met during her season of 'The Bachelorette,' say that they are planning to adopt a child.
"There are so many kids that need a home," Desiree recently told Life & Style.
Desiree also told the magazine that she and Chris would eventually like to have three children, although she did not say if all three would be adopted, or if they will have biological children as well.
The couple will be tying the knot in January (although there are reportedly no plans for ABC to televise the wedding as they did with Ashley and JP's wedding, or Sean Lowe and Catherine Giudici's nuptials). While Desiree has been excitedly tweeting wedding-related things, it's clear that she has babies on the brain. She recently spoke to The Nest about what she and Chris are most excited about in regard to the coming years.
"Sharing life together and planning our future with little ones," she told the site.
Adding kids to the mix may be difficult, since Desiree is staying quite busy these days. In addition to planning her wedding, she is also designing a wedding jewelry line with KV Bijou jewelry. The line, called, Desiree for KV Bijou will launch next month. Desiree also has her own bridal gown line with Maggie Sottero (as you do) and is designing her own wedding dress.
Have you checked out Chris and Desiree's sickeningly sweet book of poetry?

(Photo: ABC)