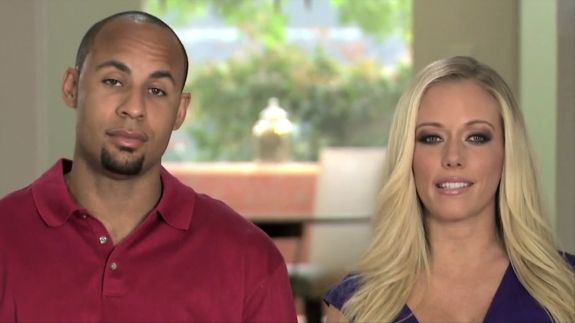 By Holly Rasmussen
In case you've been living under a rock for the last few months and haven't heard, Kendra Wilkinson and her husband Hank Baskett are having serious marital issues. Hank has been accused of having an affair with transsexual model. In an attempt to save their strained marriage, Kendra and Hank have decided to do what a lot of couples do: seek marital counseling. Unlike most couples however, Kendra and Hank have decided to broadcast their counseling on national television and appear on the upcoming season of Marriage Boot Camp.
The couple's decision to appear on the reality show just adds fuel to the rumor fire that the entire affair was staged in an effort to increase ratings. At the very least, it has caused viewers to wonder about their motives. Kendra and Hank are taking their private issues and not only broadcasting them on their own show, but also on another? 'Marriage Boot Camp' just so happens to appear WeTV, the same network as 'Kendra On Top.' Something seems fishy here.
In Touch Weekly reported this week that Hank was forced to take a lie detector test while filming 'Marriage Boot Camp' and failed it. Kendra, however, is still standing by her man..and her gravy train..for now. It certainly wouldn't benefit Kendra to declare she's divorcing Hank, as viewers would have nothing to keep tuning in for.
Perhaps 'Teen Mom' star Farrah Abraham will fake a relationship and appear on this show, just like she did to get on the last season of Couples Therapy. Farrah and Kendra could have epic ugly-cry-face battles!
The show is currently being filmed in the hills above Beverly Hills. (The Ashley saw filming happening at the house back in September!)
Wanna stay up-to-date on what's happening each week on 'Kendra On Top?' Click here to read Holly's latest recap!
(Photo: WeTV)