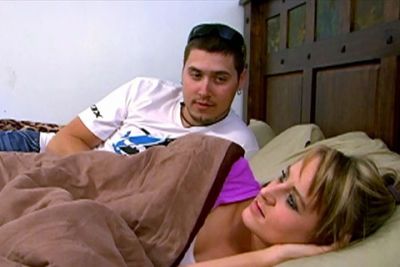 Get ready for a Teen Mom 2 bombshell, y'all!
While Leah Calvert and her husband Jeremy have had trouble in their marriage in the past, the couple has insisted that they were rock solid.
Until this morning, that is…
Early Friday morning, Jeremy took to his Twitter to drop a bombshell on his wife. He accused Leah of cheating– with the same guy she cheated on her ex-husband, Corey Simms, with!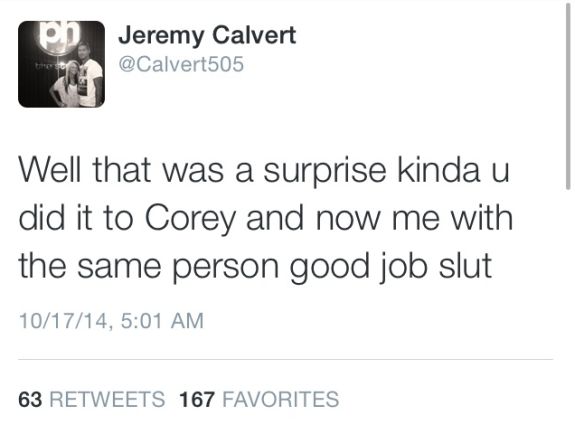 Jeremy, who has never been one to "Twitter rant" (unlike his wife), went on to tweet more incriminating stuff about Leah.
"Go back to Mingo and have a wonderful f**king weekend with Mr kidd," he wrote, adding that he planned to file for divorce.
Jeremy later deleted his tweets (click here and here to see screenshots), but his real Facebook page currently lists his relationship status as "divorced." (He has since made it private.)
So what the heck is going on? Don't worry, y'all, The Ashley has you covered and has all the details!
Jeremy is referring to Robbie Kidd, the guy that Leah confessed to having an affair with during her marriage to Corey Simms. Basically, it's a game of he said, she said and….from what The Ashley can gather, what Jeremy said is the truth.
According to The Ashley's sources, Robbie has been getting into trouble and was arrested recently. (This checks out. Online records confirm that Robbie was, indeed, arrested in mid-September. Check out his hot mugshot!) Robbie and Leah and their families have remained friendly. (According to a Facebook post by Leah's mom Dawn Spears, Robbie's sister is married to someone in Leah's family.) Anyway, Leah's side of the story is that she and Robbie were just texting because his family asked her to reach out to him because he needed a friend. Leah "felt bad" and reached out. When Jeremy found out, he assumed she cheated.
Leah's mom tried to defend her daughter on Facebook this morning, saying Robbie's dad dislikes Leah and started this rumor.
"He told Jeremy he seen Robbie sneak through the back door on a deer cam which was a lie," Dawn wrote. (Seriously, I can't make this stuff up.) She claims that she personally contacted Robbie and he denied an affair. (Oh, and Robbie apparently just became a father recently, to add more drama to the story.)
That may be the story that Leah's telling, but it's not the story that Jeremy is believing!
The Ashley's sources are saying Jeremy's side of the story is that Leah had sex with Robbie.  Apparently, people around town had seen Leah and Robbie together and it got back to Jeremy. However, it is definitely true, according to a friend of Robbie's that confirmed it to The Ashley. Leah confessed it to her husband eventually and asked for forgiveness, another source says.
Jeremy is understandably devastated by the betrayal and has said he plans to file for divorce from Leah. The cast of 'Teen Mom 2' has already signed contracts to star on the upcoming sixth season of the show; however with this latest development, he may be reconsidering putting his private life on television.
Anyway, Jeremy's tweet-and-delete may be the result of MTV reaching out to him and telling him to save the drama for the cameras. (They are probably rushing to get a camera crew over to The WV as we speak to make sure to capture everything on film!) But it was definitely not a hack on Jeremy's Twitter account that caused the tweet. This is the real deal.
Leah has yet to respond to the scandal on her Twitter account, but may be being kept silent by MTV. The Ashley will keep you posted as more details unfold, but damn…. is this juicy or what?! The show's producers are probably salivating over all of this potential ratings-gettin' drama!
UPDATE: Leah replied to a fan on Twitter that asked if the rumor was true.
"I never cheated on my husband and he knows that… there was a rumor and he believed it but it's ok," she wrote.
The Ashley stands by what she wrote, and reminds her readers she would never put something out there like this unless her sources were very solid.
UPDATE #2: Leah's sister, Victoria, took to her Facebook to defend her sister. However, in her rant, she basically confirmed that the rumor is true and that Jeremy wants out of his marriage to Leah.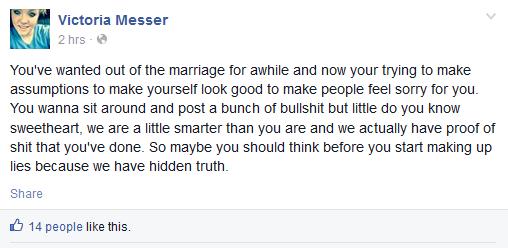 UPDATE #3: Leah's official Facebook page, as well as her personal Facebook page, have been taken down. (The last time she did this was when new leaked that she and Corey were splitting…just sayin'….)
UPDATE #4: Things are getting hardcore down in the holler! Leah's mother, Dawn, and Jeremy's mother, Tammy, got into it on the Facebook page of Starcasm. Tammy told Dawn that Leah knows she's been caught, and hinted that she may call CPS over this. Click here to read their bickerfest.
(Photo: MTV)