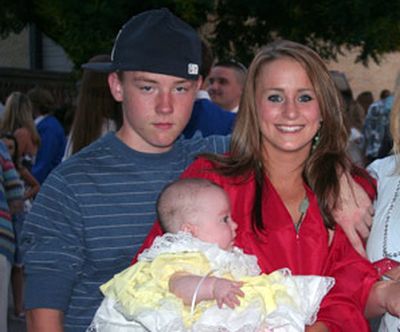 Let's just say that it's been a stressful few months for the Messer family.
Yesterday, Jeremy Calvert, the husband of Teen Mom 2 star Leah Messer-Calvert dropped a bombshell on his wife, blasting her on Twitter after claiming to have caught her cheating with her old flame, Robbie Kidd. Leah's sister Victoria Messer and mother Dawn Spears were quick to jump to Leah's defense and attack Jeremy. (Of course they ended up just making things worse. Click here to read the entire story! It's juicy!)
While creeping around the Messer family's social media accounts, The Ashley discovered that Leah's brother, Isaac Messer, who is currently a senior in high school, is apparently about to become a teenage dad!
Isaac, who is the youngest child of Dawn, is following in his sister Leah's footsteps and has allegedly gotten his high school girlfriend, Maddy, pregnant!
Isaac clearly didn't visit itsyoursexlife.org, as his older sister's TV show constantly suggests he and other teens do. His girlfriend, who he's been with since about December of last year, is currently around 29 weeks pregnant with a baby girl that they plan to name Baily.
Isaac is rumored to be actually living with Robbie Kidd, the man his sister allegedly cheated on her husband with, making this even more scandalous! Neither Isaac nor Robbie have mentioned the cheating scandal on their social media accounts.
Maddy, the pregnant girlfriend, has been documenting her pregnancy on her Twitter account, posting photos of her growing baby bump and excitedly talking to Isaac about their baby and its birth. On Saturday, she posted a tweet with a link to her Instagram account, where there was a photo of her baby belly.


Isaac will have to "work" hard if he wants to have as many children and marriages as his oldest sister. Leah ,currently 22, is the mother of three children and is about to get her second divorce.
(Photo: Facebook, Twitter)