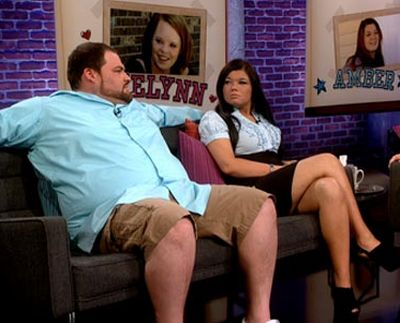 "There's a storm a-brewing!"
That's what Teen Mom star Gary Shirley wrote on his Facebook page on October 5, just days before his ex-fiance, Amber Portwood was featured on the "Ask the Moms" special, talking about how Gary "played her" while she was in prison, "cheating" on her with a new girl, Kristina Anderson, while telling Amber that they would be together following her prison release.
"They deserve each other," Amber said of Gary and his new girlfriend. "You'll see."
Five days later, on October 10, Gary took to his Facebook page again to clear the air about what Amber had said on the special. He also revealed that Amber's new book, Never Too Late, contains things that he claims are fabricated just to sell books!
"I told her about my girl 5 days after I officially started dating her," Gary wrote. "And I told her in front of my girlfriend over the phone cause I didn't wanna lie! Plz be aware that most of what she has said is false! Amber unfortunately has to put a spin on things to make her the victim plus it helps her dog me a lil!"
He then addressed Amber directly:
"By all means plz continue to lie and sell your book which also lies about me cheating, which I did do 1 time, but was just a kiss and I did it cause I was breaking up w Amber anyways," he wrote.
This public spat is surprising, as Amber and Gary appeared to have been getting along in recent months.
"We don't really argue anymore because we don't have that personal relationship anymore," Amber told Starcasm in a recent interview. "[That's] a good thing."
Amber does not currently have custody of Leah, the daughter she shares with Gary, but Gary insists that he has done his best to make sure Leah spends time with her mother.
"Amber gets phone calls often from Leah after I insist she talk to Amber even when she doesn't want to!" he wrote. "Having both her parents is super important so she don't feel abandoned."
Amber has yet to publicly respond to Gary's claims, and it appears that Gary has since taken down the posts about Amber.
It doesn't appear that Gary will be getting away from this baby-mama drama any time soon. Last week, news broke that he may be expecting his second child, this time by his girlfriend Kristina. Is it true or just another rumor?
According to one of The Ashley's 'Teen Mom' sources with close ties to Gary, it is indeed true that Kristina is pregnant, although Gary has yet to confirm it publicly due to his 'Teen Mom' contract.
We will get to see it all play out on the upcoming fifth season of 'Teen Mom,' which is currently being filmed.
(Photo: MTV)