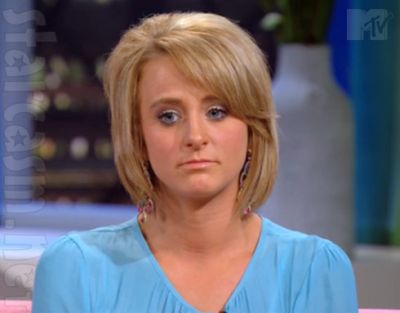 Teen Mom 2 star Leah Calvert has seen her world crumble around her in the last week. On Friday, her husband, Jeremy Calvert, accused her (via Twitter) of cheating on him with her ex-boyfriend Robbie Kidd, igniting a firestorm that has escalated over the last few days.
Today, In Touch Weekly threw another bombshell at the 23-year-old mom of three in which they finally exposed Leah's intense drug problem and even spoke to her supposed dealer. (The Ashley will address all of this later, don't worry, in addition to the latest news in the Jeremy/Leah/Robbie situation).
For now, let's talk about MTV's role in all of this…
Currently, the 'Teen Mom 2' girls and their beaus are all signed up for Season 6…everyone except Leah and Jeremy, that is. A production source has told The Ashley that MTV and the show's producers are very aware of all of the news that's been circulating about Leah's marriage and drug problems; however at this time there is no plan in place to get her into any type of rehab facility or treatment. (Those who read The Ashley's book, Teen Mom Confidential, know that MTV footed the bill for the rehab stays of Amber Portwood and Jenelle Evans.)
In the past, the girls' drug use has been brushed under the rug until it couldn't be denied any longer. While footage of Leah nodding off due to being in a pill stupor was shown during Season 5B, the episode clearly did not tell the whole story. Leah's drugged-up state was blamed on her anxiety pills but, as many fans pointed out after the episode aired, that type of stupor Leah was in is more common when the person is using opiates, not anxiety pills.
The show's producers don't like to get involved in this type of issue, judging from their previous handling of Jenelle's addiction to heroin. In December 2012, Kieffer Delp's mother, Vickie Delp, revealed on her Twitter account that MTV asked Jenelle's mother to stage an intervention for her daughter after crew members witnessed alarming drug use by Jenelle. They themselves did not do an intervention.
While MTV may not be planning (at this time) to get Leah help, they have been affected by her alleged drug problem. Another source tells The Ashley that Leah is the reason that filming has not begun on Season 6. Despite the fact that this Leah/Jeremy/Robbie love triangle would be equal to ratings gold, they can't capture it all on film because Leah has yet to return her contract. According to a show crew member, none of the 'Teen Mom 2' girls have filmed anything for Season 6 yet.
(Also— The Ashley would like to clear up something she read. Another media outlet stated that The Ashley said that MTV had rushed a film crew down there to capture all of the drama. This is not true, nor did The Ashley ever say this.)
It is not known whether or not Leah's ex-husband, Corey Simms, has signed on for Season 6, but a source tells The Ashley that Jeremy is not planning on doing the next season, at least at this point. (This can change of course, especially if MTV throws more money at him.)
Anyway, many of the people that work with Leah on the show are very worried about her and have been for much longer than this story has been out in the public. One person tells The Ashley that several of the girls and other cast members were considering even staging an intervention for Leah to get her help; however, to The Ashley's knowledge this has yet to take place.
The Ashley will go into more of the stuff regarding Leah's alleged drug use, plus the state of her marriage to Jeremy, in follow-up posts! Stay tuned!