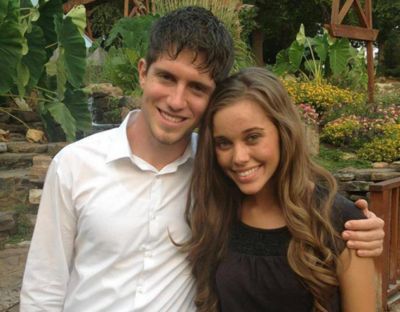 Jessa Duggar married her fiance, Ben Seewald, earlier today in an elaborate, on-camera affair just like her older sister, Jill, did back in June when she married Derick Dillard. While Jessa's wedding was similar to Jill's in that it had 1,000 wedding guests and was recorded by TLC for 19 Kids and Counting, it differed in one very big way–Jessa and Ben did not share their very first kiss at the altar as Jill and Derick did!
Starcasm reports (via a wedding guest) that Jessa and Ben left the altar in the middle of their ceremony and retreated to a private room so they could kiss for the first time without one thousand people (plus TV cameras) staring at them!
"The big surprise was that there was no kiss during the ceremony," an insider told Starcasm.
The ceremony wasn't completely kiss-less, though. The insider reports that while Jessa and Ben were off privately smooching, their preacher talked to wedding guests about kissing, and then directed them to watch Jessa's parents, Jim Bob and Michelle Duggar, kiss instead. (W.T.F?)
The wedding guest reported that security was out in full force, making sure no one secretly tried to snap pics of the wedding.
People reported that despite her much-talked-about virginity, Jessa opted to wear a blush-colored gown instead of a white dress. The wedding was accented in coral. Jessa's sister, Jinger, was chosen as her maid of honor, while Ben's best friend Dylan served as the best man. Jessa had nine other girls (including her other sisters Jill, Jana and Joy, as well as some of Ben's relatives) serve as bridemaids.
Of course, the whole thing was captured on camera and People reports that Jessa and Ben's wedding will air next season on  19 Kids and Counting.
To read more exclusive details of the ceremony, head on over to Starcasm!
(Photo: TLC)