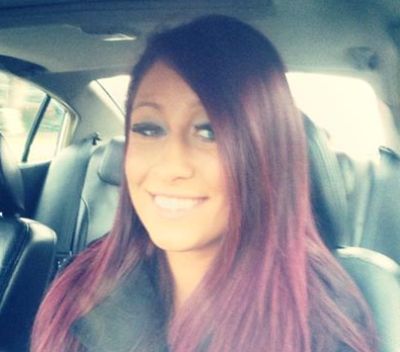 Here we go again! Just over a year since 16 and Pregnant Season 2 star Nikkole Paulun was accused (and basically proven to be guilty) of staging a fake pregnancy and stillbirth, she's announced that she's pregnant yet again! (If you don't remember that whole debacle from last year, click here and get ready for a ride on the crazy train!)
On Sunday night, Nikkole shared the news with her over 50,000 Instagram followers, telling them that she has taken multiple tests, all of which say that she is pregnant.
Nikkole, who is already the mother of four-year-old Lyle,  posted photos of multiple positive pregnancy tests, along with a caption explaining how she found out and how she feels about this second third pregnancy. In the extra-long caption, Nikkole wrote that she felt really sick while tanning yesterday (as you do) so she decided to take a pregnancy test (as you do). She wrote that she was surprised to see a positive result.
"I was in shock! I told myself it was because it's a $ store test and didn't believe it," Nikkole wrote. "I went to my mom to tell her and she told me to go buy another test. I bought a more expensive one and right away, positive. I wanted to go to the hospital to find out more but didn't want to pay the co-pay so I went home and went to bed. I woke up in the middle of night feeling like I had the flu and was up most of the night/morning. I couldn't even keep water down. I finally called my mom and told her I couldn't handle being this sick and wanted to go the ER. I stopped and bought one more test on my way to my moms to see if the results were still positive and they were. I went to the ER complaining of nausea, vomiting, fever, and abdominal pain (my stomach hurt from not eating in 2 days) Within an hour they took a urine sample and came back to tell me that it was positive. I got blood work and an ultrasound to confirm it as well and I'm 3-5 weeks!"
Nikkole has been dating a guy named Ryan for over a year and in June announced that they were engaged and getting married in October. (They still aren't married, by the way, and it's November.) She told her followers that she's surprised that she got pregnant. (Um?!)
"This is definitely a shock as I wasn't expecting this at ALL," Nikkole wrote. " I'm extremely overwhelmed with emotions and drained from being so sick. I know I'm not completely ready to be a mom again but I know everything will work out perfect!"
Of the 19 girls that appeared on '16 and Pregnant' Season 2, 10 girls (including Nikkole)  have had second pregnancies or second babies in the four years since they appeared on the show. While some of these pregnancies were planned, such as Brooke Tarrant's and Kail Lowry's, others were not. Other Season 2 girls to get pregnant again include Jenelle Evans (twice), Lori Wickelhaus, Leah Calvert (twice), Felicia Cooke, Aubrey Wolters and Ashley Salazar. Season 2 star Megan McConnell is currently pregnant.
Stay tuned because Nikkole's latest "pregnancy" is likely to be just as weird as her last two!
UPDATE: This story just got a little weirder. According to Teen Mom Junkies, Nicole and her "fiance" are no longer together, and he is already dating another girl!
(Photo: Facebook)