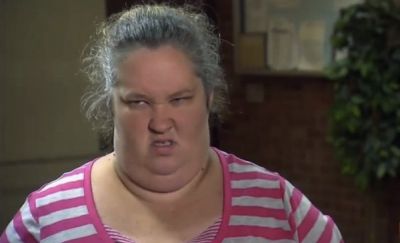 The alleged relationship between Here Comes Honey Boo Boo star Mama June Shannon and the man that allegedly molested her daughter, Anna, has already cost June and her family their reality show–and now it's costing June some big bucks!
According to TMZ, who broke the news that June was dating convicted child molester Mark McDaniel, the new episodes of 'Honey Boo Boo' will go unaired now that the show  has been cancelled. While Alana "Honey Boo Boo" Thompson, as well as June's other daughters and granddaughter, will get their full paychecks for the unaired episodes, TMZ reports that June will not, because her relationship broke a "morality clause" in her contract with the network.
"The network does not believe June deserves full payment, so they have deducted a significant amount from what she would have gotten if the show aired," TMZ reported.
Alana's father,
Mike "Sugar Bear" Thompson
will get his full paycheck from the network. This is good, being that his friend recently went on record saying that
Sugar Bear was too poor
to fight June for custody for Alana, and that he was currently living in a trailer with no electricity or running water. (In recent days, however, the family has been photographed all together, so it's unknown what's really going on between Mike and June at this point!)
The Ashley has reached out to TLC for comment on this story but has yet to hear back from the network. She will update this story if new information surfaces!
(Photo: TLC)