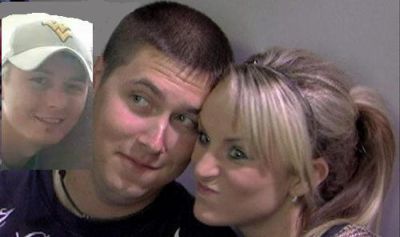 All has been quiet over the last few days in regard to the alleged cheating scandal involving Teen Mom 2 star Leah Calvert, her husband Jeremy Calvert and Leah's ex-boyfriend, Robbie Kidd. While Leah has been busy tweeting her love for Jeremy and totally ignoring the fact that her husband accused her on Twitter of screwing Robbie, Jeremy has been tweeting about how much he wants to go party in Vegas. He has also posted tweets that were taunting Leah about her alleged Robbie hook-up.
Robbie decided to get in on the tweeting fun on Tuesday, resurfacing on his Twitter account after being absent for over a year. He seemed eager to address the rumors that he and Leah had been hooking up. When asked whether or not he had spoken to Leah lately, Robbie answered.
"No sure haven't. Like I told everyone in the first place, her problems are hers, I have my own," he wrote, adding, "I'm a big boy. No reason not to tell because I have nothing to hide."
Robbie denied that he had been caught via the deercam sneaking into Leah's house.
"There's no deer cam proof anywhere because I wasn't there for there to be….once again, no deer cams have caught me doing s**t," Robbie told several followers.
Of course, The Ashley jumped into the Twitter party and asked how Jeremy got the idea that Robbie and Leah were hooking up.
"Small town drama," Robbie told The Ashley. "That's all it is."
Robbie then directed his followers (as well as Leah's husband Jeremy) to read the recent statement he gave to Radar Online..
"Apparently they already have a magazine out with an article about all this? My statements are there and he can read if he wants," Robbie tweeted. (Click here to read what he said!)
Robbie seems to be enjoying all of the drama just like we are!
"I get just as much of a laugh as you do because all this drama and bulls**t is over nothing," he wrote.
One site has reported that Leah paid off Robbie to say that nothing happened between them. The Ashley is not confirming this report; however Robbie did tweet the following to The Ashley on Monday:
"Even if I had done something, nobody here on this twitter feed pays my bills so there opinion means nothing."
Just for the record, Robbie still follows Leah on Twitter, and Leah still follows Robbie on Twitter. Leah does not, however, follow her own husband, nor does he follow her.
As for the status of Leah and Jeremy's relationship, The Ashley's sources tell her that Jeremy is still totally done and not going back with Leah, despite all of her "happy family" tweets.
Finally, Robbie addressed Leah's alleged drug use. When asked by a follower if Leah really does have a pill habit, Robbie answered, "No I have no idea what she's into. Not my business."
If you need to catch up on all of the Leah/Jeremy/Robbie drama, click here, here and here!