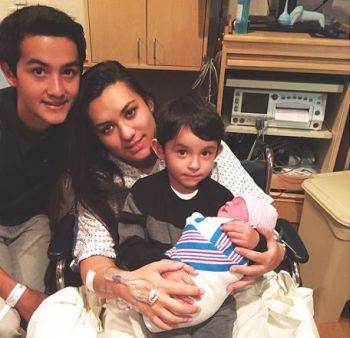 It's a girl for 16 and Pregnant Season 3 star Izabella Tovar and her fiance, Jairo Rodriguez! Izabella announced on her Instagram account on Wednesday night that she had given birth to her her daughter. She had previously been keeping her followers updated on her pregnancy, and mentioned that she had her water broken on Wednesday afternoon.
Izabella and Jairo welcomed their daughter at 4:06pm after what Izabella describes as a very painful delivery.
"My labor went by really fast but it was so painful that there was no way I could update," she captioned a photo posted to her Instagram. "I had no epidural and the birth went smoothly!"
Izabella and Jairo chose a unique name for their little girl: Anastazia. It appears that Izabella may be playing off the "z" in her own name by giving the baby a uniquely spelled version of "Anastasia."
According to Izabella's posts, the baby weighed in at 7 lbs., 12 oz. and measured 18 3/4 inches long.
Izabella and Jairo are already parents to four-year-old Henry (who had his named changed from Enrique a while back). Izabella announced her second pregnancy in July and made sure fans knew that this pregnancy was no "accident."
"I want to make clear that this pregnancy has been planned for years," she wrote on her Instagram. "Ever since Henry was born Jairo and I decided that we wanted our kids to be 4-5 years apart. Then in October of 2013 I was having complications with my IUD and it was taken out. Jairo and I then began talking about trying for another one. So, in February 2014 I became pregnant!"
She also mentioned that she had been reluctant to announce this pregnancy because she didn't want to hear negative comments from the show's fans.
"Sharing my pregnancy publicly is a new experience for me as you may know," she wrote. "I kept my first pregnancy a secret for 8 months."
A large portion of the girls featured on the third season of '16 and Pregnant' have had second babies since appearing on the show. Six out of the 10 girls featured that season have experienced a second pregnancy. This includes Izabella, as well as  Jordan Ward, Jennifer Del Rio, Danielle Cunningham, Jamie McKay and Allie Mendoza.
(Photo: Instagram)