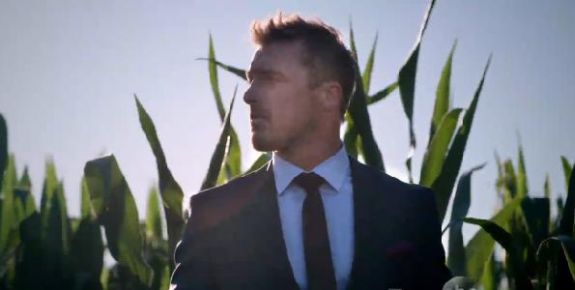 By Holly Rasmussen
The Bachelor will be returning for its 19th season in January, ABC has announced! The hit show will kick off January 5 with a live three-hour premiere! Yes, you heard that right—three hours!  Prepare your nachos and hot wings because this is going to be like the Super Bowl of 'The Bachelor!' What could they possibly fill three hours with? Are we going to hear the entire life history of every single contestant?
Speaking of hot wings and football, the network is making sure everyone knows that the new 'Bachelor' is all-American "hot farmer" Chris Soules.
You may remember the farmer from Iowa from the most-recent season of The Bachelorette last season. Chris was dismissed after professing his love for Bachelorette Andi Dorfman and his desire to move her back to his Iowa farm. Andi, however, did not seem thrilled with the prospect of Iowan farm life (which, in Chris' family also included playing weird hide-and-seek games in the dark with his family).
After the show's fans' negative reaction to swarthy 'Bachelor' Juan Pablo Galavis last season, ABC must have decided they needed to inject a dose of Americana into this next season. It seems the hot farmer's season will focus primarily on his life on the farm in Iowa and his desires to bring one lucky lady back to his field of dreams.
This season will undoubtedly be filled with cheesy farmer stereotypes and city girls who've never seen a garden. The producers will likely have farmer Chris put the girls through some "fun activities" that will require them to get dirty and test out their farm skills. There will no doubt be plenty of bleach blondes in Daisy Duke cut-offs and cowboy boots talking about how they love Chris' "realness." And, of course, the producers will do everything they can to remind viewers that Chris is the all-American man of your dreams, and nothing like that nasty ol' Juan Pablo.
So get your American flag themed T-shirts out and prepare for three hours of Chris talking about how he's just a good ol' boy looking for love. And corn fields. Lots and lots of corn fields.
ABC has released the first trailer for Chris' season of 'The Bachelor.'  It shows the corn creepily fighting over Chris. (Perhaps this explains the paternity of all of those kids from "Children of the Corn?") Watch it below:
(Photo: ABC)