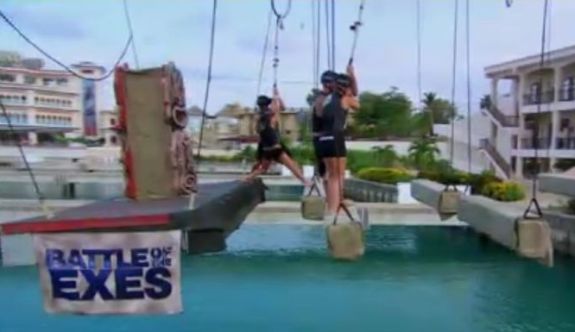 The upcoming season of MTV's The Challenge will be like no other season before it…and The Ashley has all of the details on the cast, twists and the new additions! One of the most-popular seasons in recent years was "Battle of the Exes," where contestants were forced to team up with their former boyfriends or girlfriends (or, in some cases, just some person they did the nasty with in a bunk bed after a drunken night at 'da club' during another season). This season will revisit that premise, so get ready for "Battle of the Exes 2!"
According to The Ashley's source, who got the info straight from cast members, the season was shot in Panama over the summer. While the "Battle of the Exes" theme will remain the same, there will be an exciting twist added in this time around. The source tells The Ashley that losing teams will get a chance to get back in the game, via a twist that is similar to Survivor's "Redemption Island" scenario. (It seems that a lot of reality shows are using this type of twist recently; The Biggest Loser introduced "Comeback Canyon" this season to give eliminated players a chance to get back in the game.)
Also new this season? Cast members from another MTV show will be introduced into the mix! Several contestants from the first season of MTV's Are You The One? will play alongside 'Challenge' veterans and Real World cast members. (Thank goodness they will be introducing some fresh people! The 'Challenges' have gotten a little stale since they always seem to have the same people on them. After all, how many times can we watch Cara Maria cry that no one likes her?)
The 'Challenge' people, as well as the 'Are You The One?' folks, will be paired with one of their exes for the entire season.
According to The Ashley's source, here are the teams:
Adam Kuhn &  Brittany Baldassari (Are You The One?)
Dustin Zito (RW: Las Vegas) & Jessica McCain (RW: Portland)
Jay Goti & Jenna Campono (RW: Explosion)
Johnny Reilly & Averey Tressler (RW: Portland)
Johnny Bananas (RW: Key West) & Nany Gonzalez (RW: Las Vegas)
Jordan Wiseley (RW: Portland) & Sarah Rice (RW: Brooklyn)
John Jacobs & Simone Kelly (Are You The One?)
Leroy Garrett (RW: Las Vegas)  & Nia Moore (RW: Portland)
Thomas Buell & Hailey Chivers (RW: Explosion)
Wes Bergmann (RW: Austin) & Theresa Gonzalez (Fresh Meat 2)
Zach Nichols (RW: San Diego 2011) & Jonna Mannion (RW: Cancun)
Ryan Knight & Jemmye Carroll (RW: New Orleans 2010)    [The Ashley finds this surprising, given what happened last time Knight appeared on a 'Challenge!']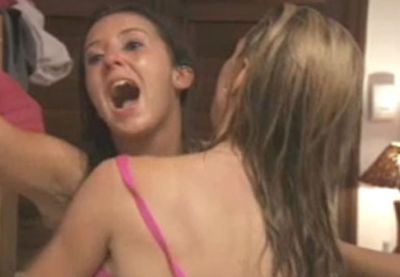 There will be one more team on the upcoming season as well. Exes CT Tamburello and Diem Brown were also competing on 'Battle of the Exes 2' when Diem collapsed during a challenge back in August. Initially, the source tells The Ashley, producers thought Diem was having a bad reaction to the peanut butter they were using in the challenge. Unfortunately, however, it turned out that Diem's cancer had returned for a third time.
She was flown back to the United States and hospitalized and is currently fighting for her life. Earlier this week, she told her fans that her doctors have "given up" on finding a new treatment to save her because her cancer has spread so much.
The Ashley's source tells her that CT left the 'Challenge' as soon as it was discovered that Diem was ill and has been by her side since she was initially hospitalized. They are reportedly in a relationship and have been for some time. It is not yet known how the show's producers will handle this delicate situation.
No premiere date has been released for 'Battle of the Exes 2,' however, it is likely to start after the new season of 'The Real World' airs.
Roundupers—what do you think of the cast?
UPDATE: Since The Ashley first published this in November, two cast members– Diem Brown and Ryan Knight--have died. Click their names to learn more about their deaths.
UPDATE #2: (December 4, 2014): MTV has confirmed everything that The Ashley posted–the cast list, the twists and theme. The new season will begin airing on January 6 on MTV!