It was the picture that was supposed to "Break the Internet," but Kim Kardashian's recent naked photo for Paper magazine actually just broke my heart. (I edited the cover shown below because I don't want her greasy butt on my website.)
My heart does not break for Kim. She is so far past respectable that she's a lost cause. It does not even break for all of us who have to see her oiled-up ass over and over again as we scroll through our Facebook, Instagram and Twitter accounts. (She's everywhere!)
My heart breaks for my ten-year-old niece…and her friends…and my young readers and every girl that looks at that photo and accepts it as the new normal. Kim is certainly not the first woman to oil up her ass and pose for photos, not by a long shot. She is not even the first celebrity to pose naked for a mainstream magazine; that's been done over and over. Still, this photo has social significance.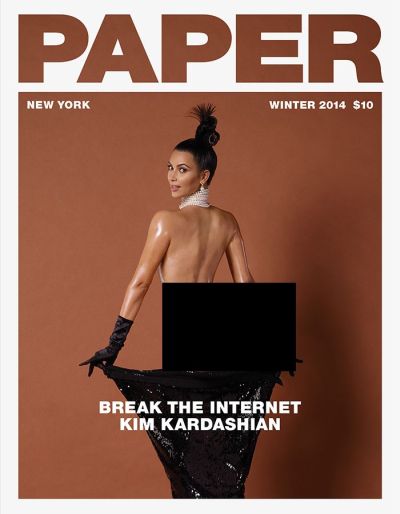 Scrolling through Instagram last night, I saw that the Kim photos were reposted all over the social media site. However, the one posting that really horrified me was a girl, who looked to be about 12, who reposted it, along with the caption, "#WCW." (That stands for "Woman Crush Wednesday, for all of the "geriatrics" out there that are reading this that aren't hip to Instagram slang.)
So, to recap: A 12-year-old girl chose an oiled-up and naked Kim Kardashian as her idol. Upon further scrolling on this girl's account, I saw photos of her and her friends: posing at the fair, all doing the "duckface." (Even the "geriatrics" know what that one is!) There was the one of her pouting her lips and leaning over the camera to take her version of the signature Kylie Jenner "sexy selfie."(Kylie's 17, by the way!)  This is the new normal, kids, and it's a damn shame.
Of course, there will be the inevitable comments posted below this, calling me a "hater."
Well, yes. I am a hater.
I hate that my niece and all of the other young girls out there see this stuff and think that, while they can be all kinds of things, what they really want to be is sexy.
I hate that they are told by scummy people like this that all that matters is their bodies.
I hate that their self worth now at least somewhat depends on how many "likes" their Instagram post gets or how many Twitter followers they have.
I hate that they feel that the best way to increase these things is to dress themselves like a teen (or pre-teen) harlot and take 25 selfies in their bathroom until they find the one that looks the most like Kim or Kylie or some other brain-dead famous person.
I am not a blogger that writes about feminism, or any other political issues. I am simply a comedy writer that makes my living writing and musing about reality TV shows and their stars. But I see it all happening, and I see the way everything is changing in terms of what is normal, acceptable and almost mandatory. And it scares me to death.
I am so thankful I got to grow up in a time before celebrities were trying to "break the Internet" (actually, before the Internet, period.) I got to live my childhood and teen years without the pressure to get followers, or post sexy photos or whatever it is that kids are doing these days to get their rocks off via social media.
Am I overreacting? Probably. It is just a picture, after all. Kim isn't the first and certainly won't be the last to do a shoot like this. (I am sure there are countless companies and photographers just gnawing their fingernails, waiting for the day Kylie Jenner turns 18 so they can oil her up, too.) The sad thing is that Kylie is probably expecting it, and most likely already has some sort of deal in place, orchestrated by her own mother.
These are not the people to look up to, girls. Make your #WCW someone that has done something, helped someone or at least helped herself using something other than a can of Crisco and her ass.
Your body will never look like that. Hell, even Kim's body doesn't actually look like that.
Strive to be more than just your body, ladies.
(Photo: Paper Magazine Twitter/Instagram)