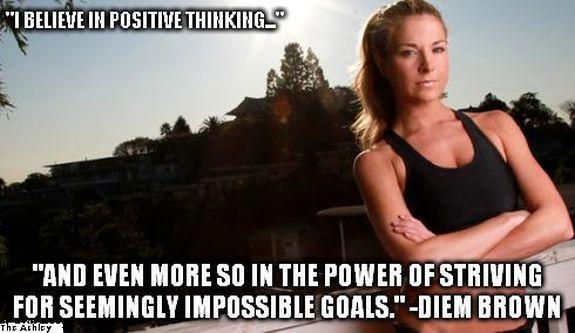 This is a story The Ashley hoped she'd never have to write.
She is very sad to report that Diem Brown, the star of MTV's The Challenge, has died after a 10-year, on-and-off-again battle with cancer. She was 32.
In August, Diem collapsed while filming the upcoming season of 'The Challenge' in Panama. Shortly after, it was discovered that her cancer had returned for the third time. (She previously battled ovarian cancer in 2005 and 2012.) Over the last few months, Diem's health had been declining rapidly, and earlier this week she announced that her doctors had "given up" on treating her cancer, as it had already progressed too far.
During her second battle with cancer, Diem courageously blogged about her experience, bravely posting videos on what it's like to lose your hair from chemo, and how she dealt with her symptoms. People was the first to confirm this morning that the reality star had passed away.
Diem appeared on seven seasons of 'The Challenge,' and was to be featured on the upcoming season (which The Ashley gave you details about yesterday) with CT Tamburello. According to The Ashley's sources, CT and Diem  began dating again a while back and were in a relationship together at the time of Diem's death.
"It's important to me to share the 'realness' of my journey," she People. "It's okay to admit that at times it's hard, that it can be tough…No matter what it is, you're going to have the bad days, but if you have hope throughout, you won, no matter what the results. Life is so beautiful."
People reported that Diem was surrounded by her friends and family at the time of her death this morning. CT, as well as several of her 'Challenge' co-stars were also there.
MTV issued a statement regarding the loss of Diem.
"MTV is tremendously sad to hear the news that Diem Brown has lost her long battle with cancer," the network said in a statement. "We send our deepest condolences to her family and friends. Diem was a true fighter and brought passion to everything she touched. We will miss her."
Diem was well-loved by her 'Challenge' family. Cara Maria Sorbello, whom Diem was close to on- and off-screen, wrote a touching tribute to her friend on her Instagram this morning:
"Straight pure dancing happiness and full of life. THIS is the Diem i know. There is no 'losing the fight' or 'losing the battle' to cancer. Please dont ever think or say that. She has done nothing but WIN with her life. She is an angel put here for us to teach us lessons. Diem has inspired strength to those who felt weak. She has reached out a hand to those who felt alone. She created MEDGIFT and left a beautiful legacy through her passion for helping others. She has shown all of us how to come together in prayer and love. What she has left us is the biggest gift in the world. We are sad because this heart of life got taken away from us too soon…. But we should celebrate what she has done. Celebrate her life. Be thankful for what she has taught us through her struggles. Know that life and health are never guaranteed. Tell those close to you that you love them. Be thankful for all the little things. Diem's life, struggles, and death all had a purpose…"
People has published a piece on what Diem's final hours were like. Click here to read it.
Other 'Challenge' cast members wrote tributes to Diem on their Twitter accounts:
Camila Nakagawa: My beautiful friend. @DiemBrownMTV I will be forever grateful for all the amazing moments I got to share w/ you. I LOVE YOU D.
Dustin Zito: Diem Brown was a beautiful soul and loved life to the fullest! May you rest in piece "Diieeem" we will miss you
Johnny Bananas: She is clothed in strength and dignity and she laughs without fear of the future. -Proverbs 31:25 Rest in peace my sweet Diem
Jonna Mannion: I am so sad to hear that our challenge queen passed away last night.You will forever be in our hearts. RIP @DiemBrownMTV
Tori Fiorenza: My sweet friend @DiemBrownMTV, this world lost a beautiful soul,I know you are dancing with your mama, pain free. #missyou #heartbroken
Chet Cannon: It's very sad to hear about @DiemBrownMTV's passing. I believe in a heaven and I have no doubt she was received lovingly on the other end.
Paula Beckert: Heaven got another angel today @DiemBrownMTV …doesn't make it hurt any less…love you miss you my friend more than words can say…RIP
As you Roundupers know, The Ashley was a huge fan of Diem and had been chronicling her final battle with cancer diligently. She sends her love to all of Diem's family, her friends and 'Challenge' cast mates.
Click here to read The Ashley's "Top 5 Reasons to Love Diem Brown" post, which was written in 2012.
CT and Diem's love story was one of the greatest to ever grace reality TV. The Ashley sends her sincere condolences to him as well.