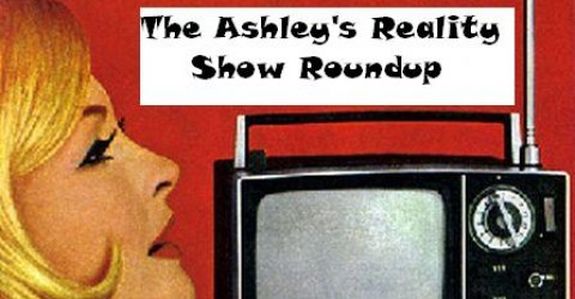 "Today is a good day."
That's how The Ashley started her very first blog post on The Roundup…exactly 10 years ago today!
It's hard to believe that I have been working on this website for a whole decade. Looking back, it's amazing to see how much the site has grown, changed and improved, and I am extremely proud and humbled that people still continue to read what I have to say.
In my very first blog post from February 26, 2010, I included the short list of shows that I would cover on the site, and it's shocking to see how much that list has changed and grown in 10 years! (At the time, I was completely obsessed with American Idol…but in my defense, the show was a lot better back then. Don't judge me!)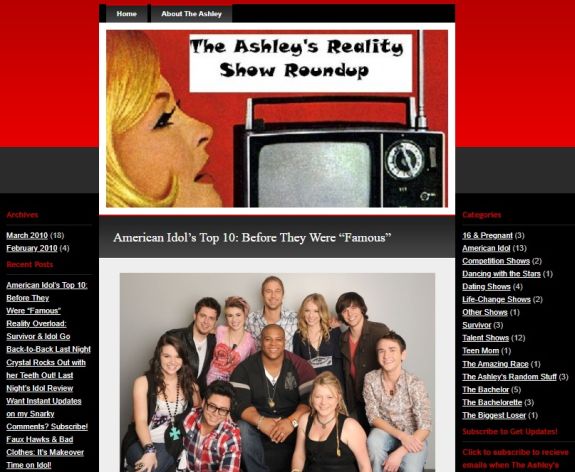 In one of the posts from my first month online, I wrote about the girls (and guys) of 16 and Pregnant and Teen Mom and, sadly, I am still writing about those same people today! In the years since, though, I've published a book about that show and managed to make myself a thorn in the paw of the 'Teen Mom' producers. (Sorry, guys!)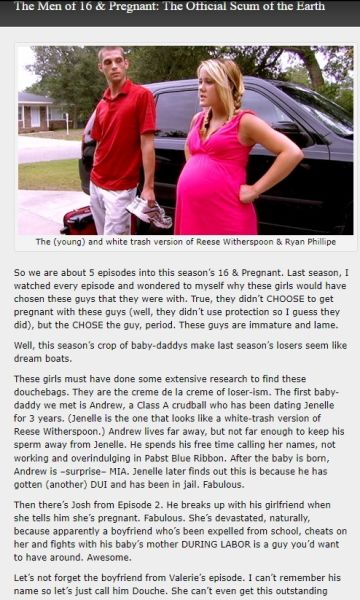 In honor of The Ashley Reality Roundup's 10-year anniversary, I'm looking back back at the top-read story from each year, to show how the site has changed over the years!
2010: "Everything You've Ever Wanted to Know About Maci Bookout's Tattoos" (This was by far the most-read post of the blog's first year! People are still obsessed with Maci's tattoos, all these years later!)
2011: "'Kitchen Nightmares' Season 1: Where Are They Now?" (A look at which restaurants from the first season of 'Kitchen Nightmares' were still in business…as of 2011, anyway…)
2012: "'Kitchen Nightmares' Season 3: Where Are They Now?" (Folks REALLY wanted to know what happened to these restaurants, apparently…)
2013: "Answers to More of Your Frequently Asked Questions About 'Sister Wives'" (People were very curious about 'Sister Wives,' even several years after it premiered, which made this the most-read story of 2013.)
2014: "Cody Lundin Speaks Out About His 'Dual Survival' Firing: 'It's Shocking Discovery Would Treat Anyone in This Manner'" (Fans of the Discovery Channel show were eager to get fired host Cody Lundin's side of the story back in 2014!)
2015: "More Details About David Preston Jessop, the First Husband of 'Sister Wives' Star Robyn Brown" ('Sister Wives' was huge back in 2015, and fans were dying for more details about Robyn's mysterious ex-husband, so it's no surprise this was 2015's most-read story!)
2016: "Jenelle Evans is Pregnant Again!" (This was a memorable one for The Ashley from 2016. Jenelle had been denying for months that she was pregnant with her third child, but The Ashley's sources told her Jenelle was, indeed, knocked up. Sure enough, baby Ensley came along months later…just as The Ashley said she would!)
2017: "Insiders Say Camila Nakagawa Won't Appear on 'The Challenge' Again…" (This exclusive story on 'The Challenge' star Camila Nakagawa's epic meltdown was the most-popular post of 2017.)
2018: "Kail Lowry is No Longer Working with 'Teen Mom 2' Producer JC Cueva: Here's Why" (2018 was full of 'Teen Mom' news, but this story was the one that was most-read in 2018!)
2019: "Jenelle Evans' Son Kaiser Removed From Her Home By CPS" (The Ashley has broken a lot of stories about Jenelle over the years; however this story, which began the saga of her fight to regain custody of her kids last summer, was the most-read story from 2019.)
2020: "Chris Lopez Confirms He's the Father of Kail Lowry's 4th Baby & Blurts Out the Gender" (This has been the most-read story of the year…so far!)
I would like to thank all of the longtime readers who have supported this site and helped it grow. I would also like to thank all of the newer readers who make it so fun to write about the crazy, wacky reality TV stars. I am forever grateful for your support (and for the fact that I am not alone in my reality TV obsession!)
Back on February 26, 2010, I ended my first blog post with "Stay tuned…there's lots of exciting things to come…." and I truly hope that continues to be true!
Again, THANK YOU, THANK YOU, THANK YOU! Here's to (at least) another 10 years!
Love, The Ashley