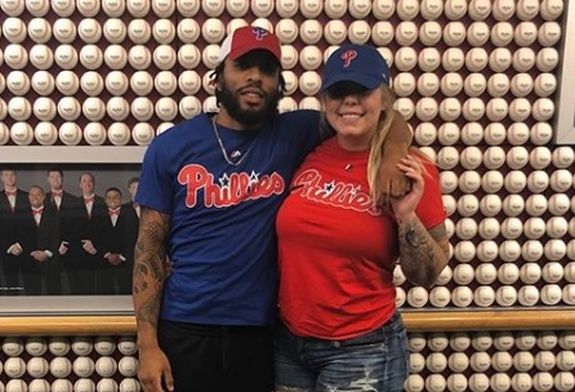 Teen Mom 2 star Kail Lowry has yet to officially confirm that the father of her unborn baby is Chris Lopez (even though it is). However, Chris decided to go ahead and do that for her on Tuesday night via a session on Instagram Live.
(This, of course, checks out with the news Chris' aunt confirmed a few weeks ago that Kail was once again pregnant with Chris' child. Chris is the father of Kail's third child, Lux.)
https://www.instagram.com/p/B7QMkENJybe/?utm_source=ig_web_copy_link
Shortly after Kail announced her pregnancy on Tuesday, Chris took to his Instagram Story to share a "letter to [his] unborn child," — written by A.J. Brown — seemingly to confirm publicly that he's the baby's father.
"I pray you get to know real love and real friendship," Chris' post read. "I pray you never have to feel your heart aching in your chest as you hold yourself at night. I pray you never question your worth at the hands of a lover that doesn't know any better. I hope this world never hardens your heart and you always know the difference between what is real and what is nothing more than an illusion of paradise. I want you to be fearless and true to yourself first and foremost all the days of your life."
Chris accompanied the quote with the caption "Young King" along with a blue heart emoji, leading some to believe the baby is a boy.
Before posting the quote, Chris went Live on Instagram and basically confirmed himself that the baby is a boy.
Despite Chris' sentimental post, his recent actions in regard to his son Lux have made many question his parenting. As The Ashley told you last month, Chris attempted to give up his parental rights to Lux back in the fall of 2019. He was unsuccessful, however, because the judge refused to sign off on his request.
In October, Chris was arrested twice, and Kail filed a protective order against him which is still in place. Last month Chris was arrested for violating that order.
The new baby will be the fourth child for Kail. In addition to two-year-old Lux, whom she shares with Chris, she shares 10-year-old Isaac with ex-boyfriend Jo Rivera and six-year-old Lincoln with ex-husband Javi Marroquin. This will be Chris' second child.
RELATED STORY: EXCLUSIVE! Why It Took 'Teen Mom 2' Star Kail Lowry So Long to Confirm She's Pregnant with Her Fourth Child (Behind-the-Scenes Details!)
(Photos: MTV; Instagram)