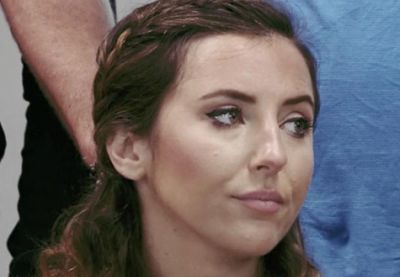 Fans of The Challenge were very vocal on social media after watching this week's episode of the show, which showed longtime 'Challenge' vet Camila Nakagawa exploding in anger and launching into a drunken racist tirade against fellow Challenger Leroy Garrett.
Many fans stated on Twitter that they thought Camila should be permanently booted from the show for her behavior. While her "Camilinator" actions were horrific on "Dirty 30," insiders are telling The Ashley that we haven't seen anything yet!
An insider tells The Ashley that Camila had yet another epic meltdown while filming the next season of 'The Challenge,' which will be "Champs vs. Stars."
"Because of what she did on the set of that season, it is almost certain that she will never return to the 'The Challenge,'" the show insider tells The Ashley.
From what The Ashley hears, the "Champs vs. Stars" will be a lot like the recent "Champs vs. Pros" season, where 'Challenge' vets compete against reality TV stars (instead of sports pros like last season), to win money for charities. Camila was part of the cast of the season, but completely "lost it" when she was voted into an elimination, the show insider says.
Multiple set sources confirm to The Ashley that Camila was melting down and allegedly ended up "punching a production assistant in the face."
Unfortunately, according to the insider, that was only the beginning of Camila's epic freakout.
"She ended up stealing a golf cart and when they told her she was going home she locked herself in the bathroom and threatened to kill herself," one person reports. "Suicide threats are usually taken very seriously on these shows."
The person added that Camila allegedly "left in handcuffs." (The Ashley can't confirm that, however.)
The source stated that it's unlikely that all (or even some) of Camila's meltdown will be air, though
"She's not in a good place…and they don't want to do anything to make it worse," the source said. "MTV is already going to be facing a lot of criticism for bringing back someone who has already had meltdowns in the past. Airing segments that shame her publicly would only make [MTV and the show's production team] look more responsible."
The insider added that it's unlikely that we will ever see those "Camilinator" clips from past seasons "celebrated" as they have been before. (If you're not familiar with "Camilinator," it's basically Camila's alter ego that comes out when she drinks a lot and gets angry.)
"She is basically uninsurable now," one production source tells The Ashley. "There have been other people in the past who have been cut for the same reason. The cost to insure someone like that is just too great…it's unlikely that the show's legal team would agree to allow her to be on the show again."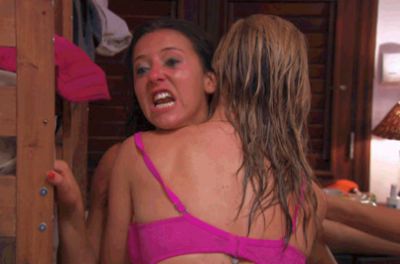 One of the sources tells The Ashley that viewers almost didn't get to see Camila's meltdown scenes from "Dirty 30." In fact, according to one cast source, the clips were going to be omitted from the broadcast, but the cast got very upset at the "Dirty 30" Reunion taping when they found out the footage wasn't going to air, particularly because they wanted viewers to see how well Leroy handled everything. (Watch the "Dirty 30" footage here.)
"It was way worse in person than what ended up airing," the cast source tells The Ashley of Camila's "Dirty 30" freakout.
"Dirty 30" cast member Johnny Bananas confirmed during a recent Facebook Live session that what we saw on Tuesday night's episode was "a PG version of what actually went down."
Veronica Portillo seemed to confirm this as well on Twitter after this week's episode aired.
"U didn't see Camila coming in2 our room saying MANY racist comments while [Nelson Thomas] was lying there biting his tongue," Veronica tweeted. "Claiming SHE was the one that was a victim of racism bc she had to leave the house…Her white Brazilian self had a big black man in her face & since they chose to remove her from the house…they were being racist against her, while not giving a s**t that [Nelson] was stuck there listening to her."
The source added that Camila did not attend the "Dirty 30" Reunion taping. It is not known if she was not invited to attend, or if she was invited but chose not to go.
"Alyssa [Giacone], who is Tony [Raines'] baby mama, was at the Reunion taping in the VIP section," one source tells The Ashley. "She went there to 'confront' Camila about her cheating with Tony but Camila was not there."
Former 'Challenge' cast member Susie Meister stated during a recent episode of her Brain Candy Podcast that she was told by members of the production crew that Camila is not going to be asked back.
"No one gets officially 'banned,'" the source added. "They just stop getting calls about future seasons once they become liabilities."
After this week's "Dirty 30" episode aired, Camila posted an apology on her Twitter account.
"I am deeply sorry for how I treated Leroy and I take full responsibility for my actions," she wrote. "He handled himself with grace-I wish I could say the same for myself. From the bottom of my heart I meant no disrespect and I wish I could take back every word that I said. But, I can't and I have to live knowing that I disrespected a human being whom I care for very much.
The last thing I would EVER want to do is put anyone in a box based on skin color. I have a deep love for humanity and sincerely regret my reckless words and abhorrent behavior. Moving forward, I am 100% committed to never letting anything like this happen again."
(Photos: MTV)