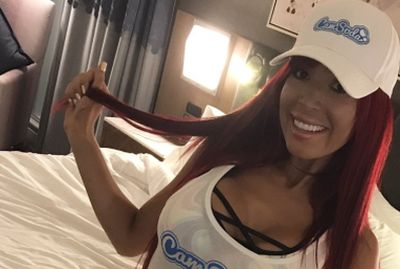 Farrah Abraham made her, um, triumphant return to the adult industry this week, appearing on raunchy adult live streaming site CamSoda on Wednesday. The (former?) "Back Door Teen Mom" showed online viewers her famous backdoor, as well as her rejuvenated vagina during the web cam show, and was more than happy to shake what her mama gave her.
Her mama, Debra Danielsen, was not happy about all the shaking, however.
"I had no clue about it," Deb told Radar Online about Farrah's super raunchy live sex show. "I'm speechless. I know my daughter has been trying to change her image. She's been doing professional things."
Farrah's father, Michael Abraham, did not appear to share Debra's disappointment over their daughter's latest endeavor. In fact, he retweeted a tweet Farrah posted where she bragged that her sex show was so popular that she crashed the Cam Soda site twice!
During the show, Farrah got completely naked, licked sex toys (shaped like her own private parts, as you do), and did a lot of, um, "SheBopping."
Her ex-boyfriend, Simon Saran, reportedly joined the site and watched the show, commenting various things throughout including, "Sophia will be so proud."
The Ashley is not posting screenshots of the show because…ew.
In the years since her "Backdoor Teen Mom" sex tape was released, Farrah has frequently stated that she is not a p0rn star and that she was no longer in the sex industry. When news of the CamSoda show hit the Internet earlier this week, Farrah once again denied that she was doing more sexy time tapes.
"I have NO new sex tape coming out and don't plan to," she told In Touch. "Been there, done that."
Starcasm estimated that Farrah made $12,337 for her online romp on Wednesday night. In addition to the cash, Farrah may have also received gifts from her fans. She set up a wishlist so that site visitors could purchase and send her presents for her efforts.
However, the 'Teen Mom OG' star wasn't looking for candy and flowers. Her wishlist included the following items: Trips to Thailand, Greece, Monaco and Brazil; $200 for her nails, Louis Vuitton luggage and bags, $1,000 for "general shopping", Size 9 high heels and $3,000 for her hair.
(While none of these requests are shocking, The Ashley is a little surprised that Farrah is spending that much dough on her hair and it still looks like a Walmart Halloween wig.)
Anyway, it is unknown if Farrah will continue to do "shows" on the adult site in the future.
(Photo: Twitter)